Top Vietnamese swimmer Nguyen Thi Anh Vien will compete in the six remaining legs of the FINA Swimming World Cup 2015, her coach, Dang Anh Tuan, confirmed.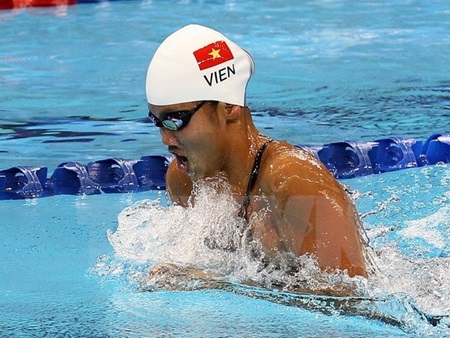 The 19-year-old girl, born in the Mekong Delta city of Can Tho, aims to hone her skills and gain more experience through these events.
Earlier, Vien competed in the event's first and second legs in Russia and France, where she gained one silver and two bronzes in the women's 200m medley and 400m medley.
She will take part in other legs in Hong Kong on September 25-26, in Beijing on September 29-30, in Singapore on October 3-4 and in Tokyo on October 28-29, as well as in Doha on November 2-3 and in Dubai on November 6-7.
The total cash prize for the Swimming World Cup is nearly 2 million USD, according to FINA.
In addition, she will participate in the 2015 Asian Swimming Championships in Thailand in October.
Vien went down in Vietnam's swimming history when she earned the country's first-ever medals at a global competition.
VNA/Vietnamplus