Sultan Muhammad V becomes Malaysia's new king
The Sultan of Kelantan State, Muhammad V, officially became the 15th King of Malaysia on December 13, starting his five-year term.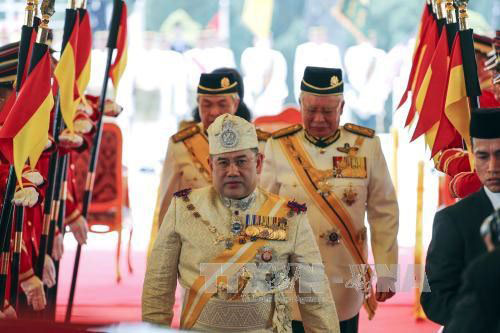 Sultan Muhammad V becomes new King of Malaysia. (Photo: AP/VNA)
The 47-year-old Sultan Muhammad V was elected as the country's monarch by the Malaysian Conference of Rulers at a special meeting in October 2016. He was the youngest king since Malaysia was founded.
At the meeting, Sultan Nazrin Shah from Perak State was also elected as the new deputy king.
Sultan Muhammad V became Sultan of Kelantan State in 2010 and deputy king in 2011.
On December 12, a farewell ceremony was held for the 14th King of Malaysia Abdul Hamlim, Sultan of Kedah State, who has finished his term according to Malaysia's rotational monarchy system./.
VNA
Link:
http://en.vietnamplus.vn/sultan-muhammad-v-becomes-malaysias-new-king/104217.vnp