Royal funeral for late Thai King planned for December
The royal funeral for late Thai King Bhumibo Adulyadej is scheduled for December, according to the Thai Prime Minister (PM)'s Office.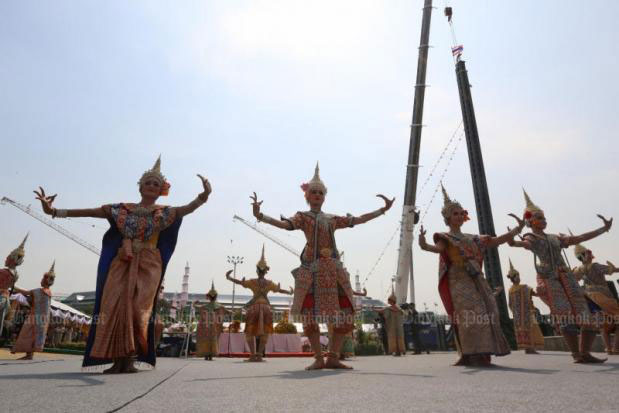 The main pillar of the royal pyre is put in place in a ceremony at Sanam Luang in Bangkok on Feb 27, 2017 (Photo: Bangkok Post)
Earlier, at a conference on March 1, Princess Maha Chakri Sirindhorn, who is in charge of organising the funeral, suggested the cremation ceremony should take place from December 25 – 29.
The plan is expected to be submitted to King Maha Vajiralongkorn for consideration.
Construction of the Pra Meru Crematorium at Sanam Luang Square in front of the Royal Palace has been implemented over the past time.
A number of structures will be built for the royal funeral, including small buildings for monks and mourners.
The Thai PM's Office has issued a tentative schedule for the cremation ceremony.
King Bhumidol Adulyadej – Rama IX passed away on October 13, 2016 at the age of 88 after seven decades taking power.
The official coronation of King Vajiralongkorn – Rama X will take place after the funeral of the late King./.
VNA
Link:
http://en.vietnamplus.vn/royal-funeral-for-late-thai-king-planned-for-december/108176.vnp