Rice exports expected to fall sharply this year
Vietnam hopes to export 1.6 million tonnes of rice in the four remaining months of the year, raising exports for the year to 4.9 million tonnes, said the Vietnam Food Association (VFA).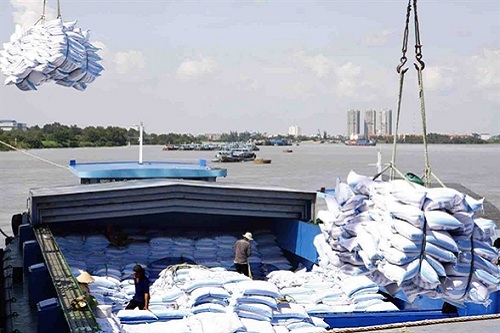 Illustrative image (Photo: trithucvaphattrien.vn)
According to a report the VFA tabled at a meeting held in Southern An Giang Province late last week, exports of 3.3 million tonnes in the first eight months of the year fetched 1.43 billion USD and represented a year-on-year reduction of 13.5 percent in volume and 10 percent in value.
Business executives attending the meeting said their inventories were at high prices while global prices have declined, threatening to cause difficulties for them.
For instance, 5 percent broken rice from Thailand usually sells at above 400 USD per tonne, but currently stands at 370 USD.
Pakistani rice prices have fallen the most – to around 330 USD.
It is unlikely for domestic prices to go up in a short time despite the contracts to export large volumes, the executives said.
Lam Anh Tuan, Director of Thinh Phat Co., Ltd, said rice exports this year would be below expectations.
Thailand's effort to increase exports amid a global slowdown in demand is among the reasons for prices to drop, he said.
The annual global rice trade is around 40 million tonnes a year and any sudden increase in supply from one source hits the market share of others, he said.
"For this year the VFA set an export target of 6.5 million tonnes, but due to market volatility it has adjusted the target.
The new target is 4.9 million tonnes, but nobody can predict anything because we depend on the market.
If from now to year-end the market is good, rice exports will be higher.
"But I think rice exports this year will surely be lower than in previous years, with exports via border trade falling the most. China considers rice imports over the border as smuggling."
According to the VFA, rice exports to China reduced by 13.33 percent in the first eight months of the year.
Firms said the Mekong Delta had almost completed harvest of the summer-autumn rice crop and the volume was not high.
Yet paddy prices are not very high because a large volume of Cambodian rice has entered the domestic market.
The country earned 2.68 billion USD from export of 6.5 million tonnes of rice last year, a decrease of 3.94 percent in value despite a marginal increase in volumes as prices dropped./.
VNA
Link:
http://en.vietnamplus.vn/rice-exports-expected-to-fall-sharply-this-year/99386.vnp