The rate of children suffering from gastric disease is growing due to schooling pressure and inappropriate food, health experts have said.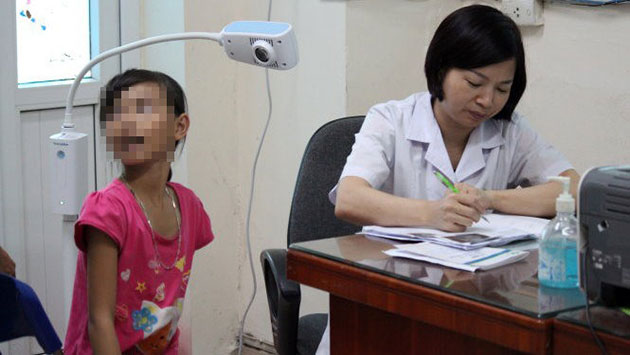 A doctor from the National Paediatrics Hospital examines a child with symptoms of gastric diseases. (Source: tuoitre.vn)
Doctor Nguyen Thi Ut from the Digestive Disease Department at the National Paediatrics Hospital, said HP bacteria is one of the main causes of gastric disease in children.
Ha, an eight-year-old child from Hanoi's Soc Son District, kept complaining of stomach aches and was gaining weight.
When the pains became more serious and were accompanied by vomitting, her parents took her to the hospital.
She was diagnosed with inflammation of the stomach's mucous membrane caused by the Helicobacter pylori (HP) bacteria.
Doctors advise children not to share their bowl and spoon with gastric disease patients as they could catch HP bacteria.
Nhi, a six-year-old girl of the capital's Dong Da District, also suffered from stomach aches.
Her parents said that she had regular meals, eating one bowl of rice each day, and several snacks such as milk, yoghurt and fruit.
But she watched TV or played with a smart phone while eating, otherwise she would refuse to eat.
To prevent the diseases, parents should not let their children watch computer, TV, smart phone, or sing and dance while eating, said Associate Professor Nguyen Tien Dung of the Paediatrics Department at Bach Mai Hospital.
He said the rate of children suffering from gastric disease is growing.
Recently, a ten-year-old patient was hospitalised for emergency care with an inflammation leading to digestive bleeding.
Statistics of the National Paediatrics Hospital show that as many as 76 percent of children between the age of four and nine complaining of stomach aches require edoscopic digestive diagnosis.
In addition, many families let their children watch TV, or play with Ipads and smart phones while eating, affecting digestion.
Some fast food such as sausages also affect children's digestive system, he said.
He warned that if gastric disease in children was not treated in time and properly, they could lead to dangerous problems such as digestive bleeding and even stomach cancer.
The expert also said that children between the age of 10 and 16 suffer from gastric disease more than younger children because they have a lot of schooling pressure.
He advised parents not to pressure their children and make them worry that they are not as good as their friends.
Pressure greatly affects children's psychology and also leads to gastric disease, according to Associate Professor Nguyen Tien Dung./.
VNA
Link:
http://en.vietnamplus.vn/rate-of-gastric-disease-in-vietnamese-children-growing/108456.vnp