Phu Quoc island in the southern coastal province of Kien Giang in recent years has attracted a huge number of tourism projects, with 136 projects now being implemented at a total registered capital of 144 trillion VND (6.6 billion USD).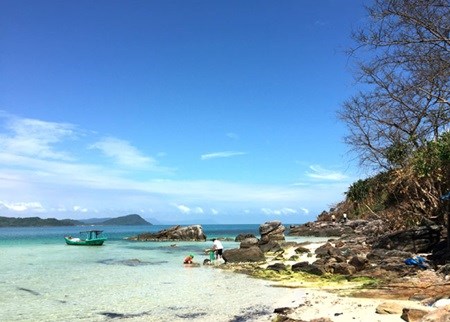 The projects cover a total area of 5,110 hectares, according to the provincial people's committee.
Major property developers, such as Vingroup, the BIM Group, the Sun Group, and the CEO Group, are ramping up their construction with the aim of opening as soon as they can.
The 1 billion USD Vinpearl Phu Quoc resort on Bai Dai beach in Ganh Dau commune opened to visitors early this year. It is the largest tourist project in Phu Quoc.
Vingroup is also developing a zoo on an area of 500 hectares in Ganh Dau and Cua Can communes.
Considered to be the world's second largest when completed, the zoo is expected to open up many opportunities for socio-economic development of the island district.
In addition, the Sun Group is developing a resort complex on South island with a capacity of 1,000 five- to six-star rooms, scheduled to open on April 30, 2016.
The Sun Group has also received approval to build a cable car from An Thoi town to Hon Thom island commune and a tourism complex, including hotels, resorts and entertainment facilities on Hon Thom island with a total investment of 10 trillion VND (458.2 million USD).
An international passenger seaport is under construction on Phu Quoc island with a total investment of more than 1.6 trillion VND (73.31 million USD). It is expected to be finished by 2017.
Huynh Quang Hung, Vice Chairman of the Phu Quoc District's People's Committee, said the island held great potential for investors and offered advantages that would help it develop into a high-end tourism area.
It is expected to continue to attract huge investment from local and international investors, he added.
The province provides investors with incentives on business income tax, personal income tax and land tax, among others. The central government has also asked local authorities to speed up site clearance and compensation to clear land for investors.
The land prices on Phu Quoc island have surged sharply since the island was recognised as a second-tier urban destination last year.
In a master development plan approved by the Prime Minister, the island will be designated a special economic zone, a centre for high-quality eco-tourism, a trade and luxury services area, and a high-tech area.
Dubbed the "Pearl" island in the southern sea, forest cover accounts for 62 percent of the island's area. The island has a 150-kilometre long coastline and beautiful beaches.
The number of tourists visiting Phu Quoc island has increased by 12 percent annually over the last seven years, reaching more than 600,000 last year, while the current supply of rooms falls short of demand.
Vietnamplus/VNA