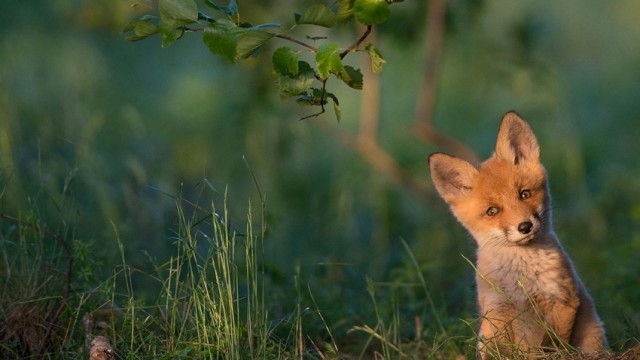 "The Little Fox", photograph by Kalmer Lehepuu, National Geographic Your Shot. (Source: National Geographic)
This little fellow was a big hit with our Photo of the Day audience in September—no surprise given that foxes, especially baby ones, are terribly cute. The photograph may look simple on the surface, but beyond the obvious star of the show, there are other forces at work. The composition allows us to get the full effect of this moment as the kit peeks out of his den. The warm evening light illuminates the fox's red fur. The photographer kept a watchful eye on the den and waited for the right moment. This month's round-up is a nod to the elements that come together to make a photograph of a deceptively simple scene shine. —Alexa Keefe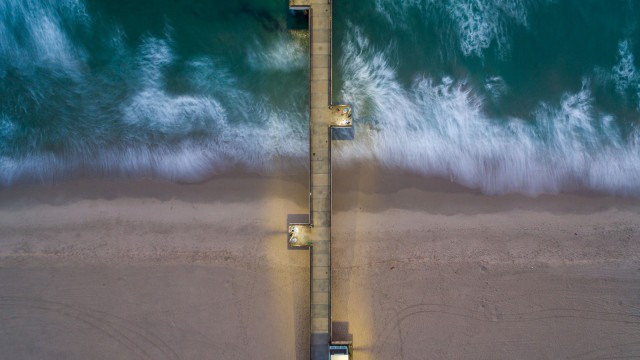 "Not as It A-Piers", photograph by Stephane Couture, National Geographic Your Shot. (Source: National Geographic)
Your Shot member Stephane Couture wanted to capture a new perspective on a familiar subject: this pier in Venice Beach, California, here shot from above on a five-second exposure while illuminated by the headlights of a car. "My idea was to frame it with the shoreline to create this cross between the organic lines of the waves and the sand [and] the sharp, man-made lines of the pier," he writes. "I love the double take viewers do when encountering this image for the first time. It usually takes a few seconds for them to really understand what they are seeing."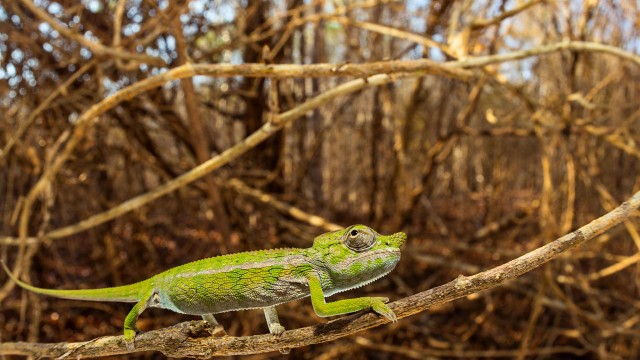 "A Standout", photograph by Christian Ziegler, National Geographic. (Source: National Geographic)
A brightly hued Labord's chameleon clings to a branch, standing in stark contrast to the surrounding dry brush. It's a popular myth that chameleons take on the color of what they touch. Though some color changes do help them blend into their surroundings, the skin's changing hue is in fact a physiological reaction that's mostly for communication. National Geographic photographer Christian Ziegler documented the colorful chameleons of Madagascar for the September issue of National Geographic magazine.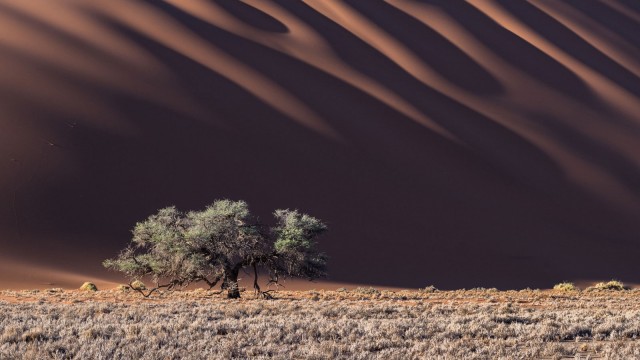 "A Slight Trick of the Eye", photograph by Stas Bartnikas, National Geographic Your Shot (Source: National Geographic)
Truly, nature is the best painter," says Stas Bartnikas, a Your Shot community member. Bartnikas had flown over the Namib Desert during sunrise and sunset and noticed that the color of the dunes heavily depended on the angle of the sunlight and the point of view, with colors changing and unusual pictures and patterns emerging. As it turned out, he writes, the effect can also be observed from the ground. He took this photo while riding through Namib-Naukluft National Park one morning. "The dune behind the tree looked very unreal," he writes, "like clouds or something else, because of [the] special angle of the sunlight." He had only five minutes to photograph—after that, the effect disappeared.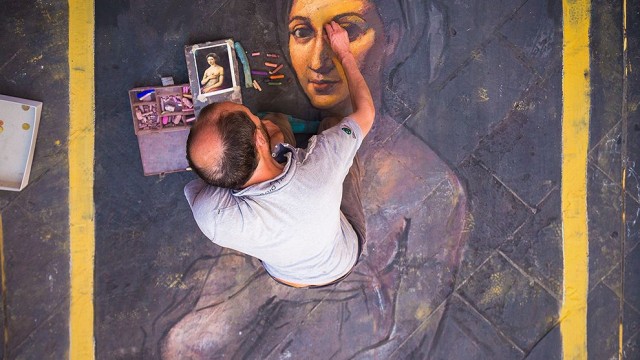 "La Fornarina on Pavement", photograph by Dmitry Butuzov, National Geographic Your Shot. (Source: National Geographic)
A street artist re-creates Raphael's "La Fornarina," or "Portrait of a Young Woman," in chalk on the sidewalks of Florence, a common canvas for serious and whimsical nods to the Italian masters. Margherita Luti, depicted in the portrait, was a baker's daughter from Trastevere and mistress of the Renaissance painter. The original work is housed in Rome's Galleria Nazionale d'Arte Antica.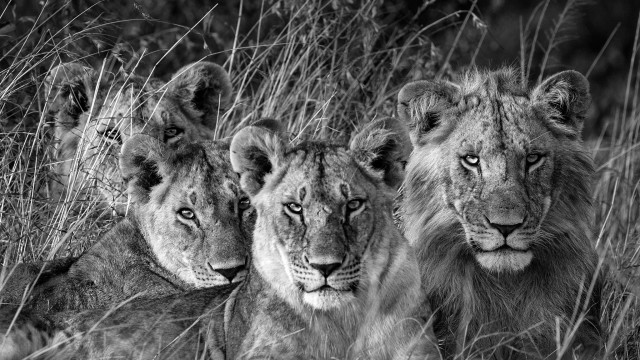 "Eyes on the Pride", photograph by Paul Lynch, National Geographic Your Shot (Source: National Geographic)
Your Shot member Paul Lynch captured this "family portrait" while on a long-awaited trip to Kenya's Masai Mara National Reserve. During the last day of the trip, Lynch's Maasai guide urged the group to take a last drive around before their morning flight to Nairobi. "We didn't expect to see much on this final drive, as we were a bit rushed to get back in time for our flight," he writes. "Oh, how we were pleasantly surprised, as we came upon the Olkiombo pride of lions shortly after sunrise!" Lynch got shots of the family playing together—not so different, he notes, from photographing his kids at home. "Then, for one fleeting moment, four of the larger lions looked directly at me, as if acknowledging my presence. I quickly took the shot and immediately knew I had something special."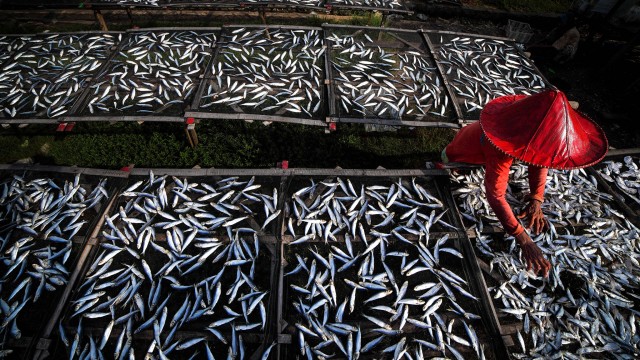 "Red Arranging", photograph by Victor Djaja, National Geographic Your Shot (Source: National Geographic)
In order to compose this image of a woman arranging fish to dry in the coastal village of Sawah Luhur, Indonesia, Your Shot member Victor Djaja took a physical approach to capturing the shock of red from above—raising the camera as high above his head as possible.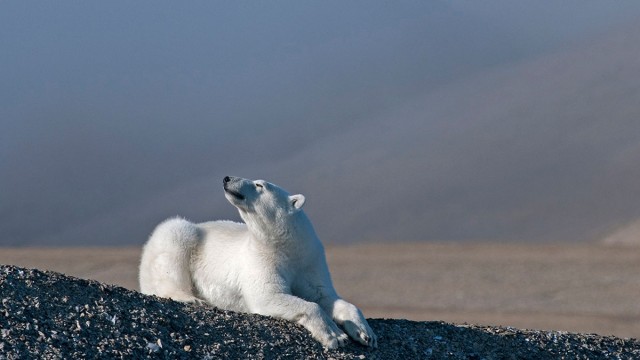 "Sun Exposure", photograph by Nina Stavlund, National Geographic Your Shot (Source: National Geographic)
Passengers on a tour of the Northwest Passage boarded Zodiacs near Beechey Island, Canada, after hearing of a possible polar bear sighting—the first of the trip. "Our drivers maneuvered us [into] perfect positions to take pictures of the bear without stressing the animal," writes Your Shot member Nina Stavlund. "You could feel the excitement, but everyone was very quiet." With flowing adrenaline and a pounding heart—"This was, after all, my first polar bear in the wild"—Stavlund was shaking so much that she had to take a few deep breaths. "I made sure my shutter was fast and that I had a good exposure [so as] not to wash out the beautiful white coat. [When] the bear turned its head toward the sun, I saw a catch light in the eye and pressed the shutter until my buffer was full."
Alexa Keefe is the editor of Photo of the Day, a curated look at photography from around National Geographic. Korena Di Roma writes the captions and titles.
Source: Alexa Keefe, National Geographic