Philippines: Manila resort gunman killed
Philippine police killed a gunman who burst into a casino of the Resorts World Manila entertainment complex, according to the National Police Chief Director Ronald dela Rosa.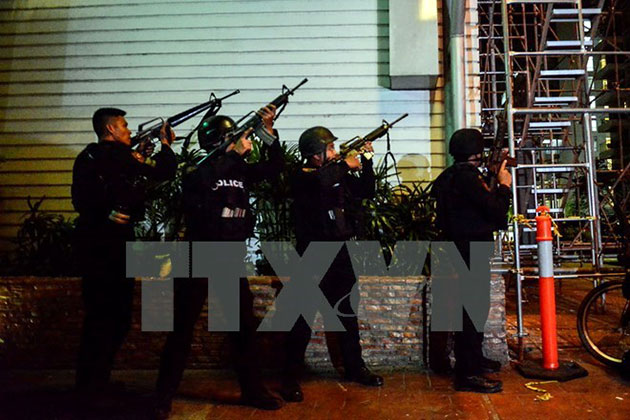 Philippine police ​at the ​scene (Source: VNA)
Ronald dela Rosa said on June 2 that the incident appeared to be a solo robbery and was not terror-related.
Earlier, the officer said the suspect was believed to be a foreign white man who had escaped because smoke had obscured footage for CCTV cameras.
Local media reported that gunshots and explosions were heard from the Resorts World Manila, a complex of a commercial centre, hostels and a casino on early June 2.
The ANC news channel said there were two gunmen wearing masks and black clothes joining the attack.
The Islamic States (IS) claimed responsibility for the attack which injured a number of people in the complex's hotels and casino.
Local police have been mobilised to the scene while the country's army said they will keep a close watch on the situation.
The incident took place in the context that the Philippines is facing a crisis in the southern region where the Government has carried out a campaign against Islamic rebels from May 23.
President Rodrigo Duterte imposed a curfew on Mindanao islands last week, saying the islands, home to 22 million people, may become the shelter of Islamist militants who were driven out of Iraq and Syria./.
VNA
Link:
http://en.vietnamplus.vn/philippines-manila-resort-gunman-killed/112674.vnp