The price of RON 92 petrol and E5 bio-fuel increased by 919 VND and 800 VND per litre respectively, from 3:00 pm on December 20.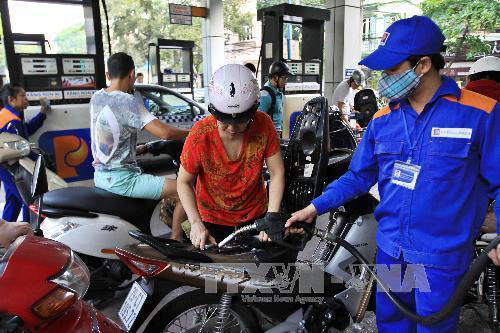 Illustrative image (Source: VNA)
Following a joint decision by the Ministry of Industry and Trade and the Ministry of Finance, the prices of diesel 0.05S and kerosene also saw respective hike of 761 VND and 734 VND per litre.
Current ceiling price of RON 92 petrol and E5 bio-fuel is no more than 17,594 VND and 17,322 VND per litre, respectively, while the maximum prices of diesel 0.05S and paraffin are kept at 13,433 VND and 11,943 VND per litre.
The average global prices of RON 92 during the last 15 days to December 20 was 63.451 USD per barrel, up 5 USD per barrel, whilst that of diesel 0.05S was 62.557 USD per barrel, lifting 4.7 USD per barrel.
The ministries also decided to keep retailers' contribution to the Petroleum Price Stabilisation Fund unchanged and give them subsidy of 600 VND per litre for RON 92 and E5 from the fund.
Meanwhile, subsidy on diesel was 250 VND per litre.
It marked the 24th adjustment of petrol price this year with 13 increases totaling nearly 6,000 VND (0.263 USD) per litre, nine cuts with a total amount of 4,463 VND (0,196 USD) per litre and two times unchanged.
The petrol price is up over 1,000 VND (0.044 USD) per litre compared to the beginning of the year./.
VNA
Link:
http://en.vietnamplus.vn/petrol-price-up-over-900-vnd-per-litre/104587.vnp