The 12th Party Central Committee closed its fourth plenary meeting in Hanoi on October 14 after six days of sitting, reaching a high consensus on resolutions and conclusions adopted at the meeting.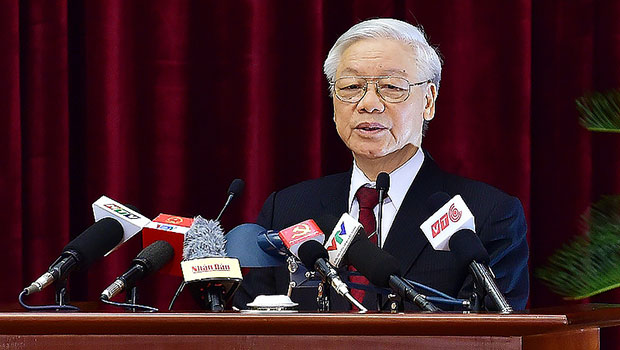 Party General Secretary Nguyen Phu Trong speaking at the closing ceremony (Photo: VGP)
On behalf of the Political Bureau, Party General Secretary Nguyen Phu Trong delivered a speech on the key outcomes of the meeting.
He declared that in 2017, efforts will be continued to focus on ensuring macro-economic stability and safeguarding social welfare.
Renewing the growth model is a key and essential task, and international integration is the cause of the entire people, he noted.
He pointed to specific tasks to build and revamp the Party pertaining to educating political ideology, making criticism and self-criticism, policies and mechanisms, inspection and disciplines in the Party, among others.
He declared that the sound implementation of resolutions and conclusion of the Party Central Committee at this conference will contribute to realising the 12th Party Congress Resolution, accomplishing socio-economic development tasks, effectively conducting national economic integration, ensuring socio-political stability, and making the Party both transparent and strong.
The leader asked each Party Central Committee member to promote the sense of responsibility and work with Party committees and administrations to instruct the implementation of the 12th Party Congress and other resolutions and conclusions of the Party Central Committee.
The fourth plenary meeting from October 9-14 debated the socio-economic situation in 2016 and plans for 2017, gave opinions on several major policies on renewing the growth model and increasing growth quality, productivity, and the competitiveness of the economy; as well as how to effectively implement international integration while maintaining political stability in the context of Vietnam joining new-generation free trade agreements.
Other discussed issues included strengthening the Party, tackling degradation in political ideology, morality and lifestyle along with the signs of "self-evolution" and "self-transformation" within the party, among other important matters./.
NDO/VNA
Link:
http://en.nhandan.com.vn/politics/domestic/item/4702802-party-central-committee-wraps-up-fourth-plenary-meeting.html