Offering Scholarships to Pupils and Students
Marking the 55th year of dioxin disaster and 10th Cần Thơ Agent Orange Victims Association Founding in the morning on August 19th, Cần Thơ Agent Orange Victims Association organized the scholarship offering ceremony to pupils, who were agent orange victims in Cần Thơ city.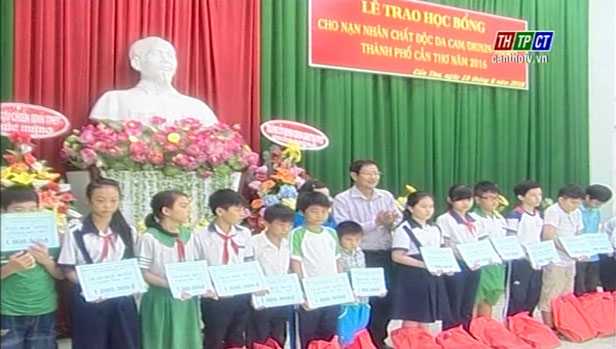 Mr. Lê Văn Tâm offered scholarships and gifts to pupils.
Ms. Vũ Thị Cánh – Standing vice chairwoman of the city People's Council, Mr. Lê Văn Tâm – Standing vice chairman of Cần Thơ city People's Committee joined in.
120 pupils, students who are orange agent/dioxin victims, studying at primary, junior and senior secondary schools, colleges, universities in Cần Thơ city were presented scholarships, each valued VND 1 million in cash and 1 gift including notebooks, a raincoat.
On this occasion, 2 pupils who are children of orange agent victims in Bình Thủy and Thới Lai were also presented bicycles, each valued at VND 1 million 200,000.
The combined cost is around VND 130 million, including 120 million support of the Southwestern assistance association for poor people, the balance contributed by kind-hearted people./.
Kiều Nhi – Hoàng Tâm
Translated by Xuân Trang