Ninh Kiều People's Council Opens 2nd Session
In the morning on July 25th, the 11th Ninh Kiều district People's Committee opens the 2nd session, the mid-year regular session to evaluate results of implementing the Resolution of the district People's Council on socio-economy, national defense and security in first 6 months of 2016; discuss key missions to concentrate on carrying out from now to the year-end as well as other important contents.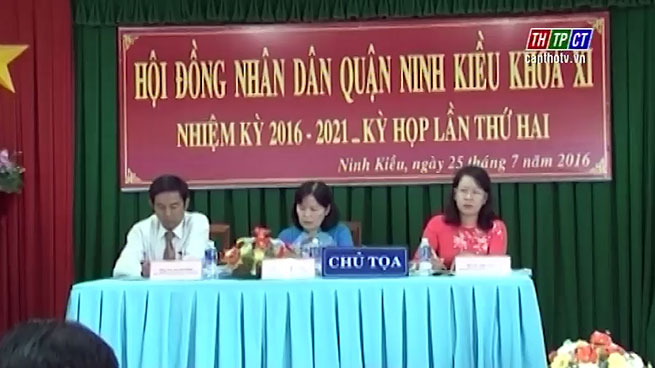 Ninh Kiều district People's Committee opens the 2nd session
Standing members of the city Party Committee, People's Council, People's Committee, the city Party Committee's Propaganda and Education and Ninh Kiều district Party Committee join in.
According to documents of Ninh Kiều district Party Standing Committee, first 6 months, socio-economy in the district area continued stabilizing and developing.
Industrial and small-scale industrial output in the area was estimated more than VND 7,000 billion.
Retail products and service outcome were estimated at nearly VND 37,500 billion, budget collection reached over 57 percent of target; with about 64 percent of capital construction disbursement.
At once, the district built and inaugurated important projects to serve for socio-economic development.
Urban order management was enhanced. Policies on social security, caring policy families and poverty people were well implemented.
National defense, political security, public order in the area was maintained. At meeting in the afternoon on July 25th, deputies will focus on discussing proposals of voters in 13 wards, make and answer inquiries shortcomings./.
Translated by Phương Đài