Microsoft has officially launched its first Microsoft Store in Hanoi, which will provide customers with the best Microsoft products including the most popular Lumia Window Phone.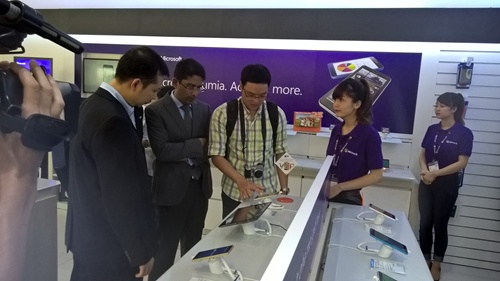 Microsoft Store will display different types of computers and tablets of Microsoft partners. Especially, the Microsoft Live Experience Table will help users update the latest information on Microsoft applications and services.
At the inauguration ceremony, Microsoft Mobile Vietnam Chief Representative, Vinod Muralidharan said Vietnam is the company's major mobile phone market. Therefore, Microsoft has poured huge investment in transferring Nokia brand name to Microsoft. He emphasised that Microsoft will continue to enhance its prestige and become a popular and reliable destination to Vietnamese clients.
Vu Minh Tri, general director of Microsoft Vietnam underscored the importance of the event, which has consolidated cooperative relations between Microsoft and FPT and helped provide more personal users with cloud computing services through Lumia products and Microsoft software Office 365.
The cooperation between Microsoft and FPT will provide a solid foundation in the launch of Windows 10 in the coming weeks, said Tri. 
VOV