MDEC-SOC TRĂNG Steering Conference
On November 7th, the steering board of MDEC-Sóc Trăng 2014 held a meeting to evaluate result of MDEC – Sóc Trăng 2014 under participant of members of the steering board, organizers, and representatives of provinces in Mekong delta region. Mr Nguyễn Phong Quang – Deputy Chief of the steering Committee for Southwestern Region, who is also head of the organizing board of MDEC-Sóc Trăng 2014 presided over the conference.
MDEC-Sóc Trăng, tittled "Restructrure agriculture-new rural construction in Mekong delta Region" is taking place from November 5th -7th. It's held between 5 main events: workshop on restructure agriculture and new rural construction to adapt with climate change in Mekong delta region; Workshop on bank's role in agricultural structure; opening ceremony MDEC-Sóc Trăng and Ok Om Bok of Khmer ethnic minority people; Conference in rural agriculture trade investment promotion in Mekong delta region and steering board conference and 5 events to combination.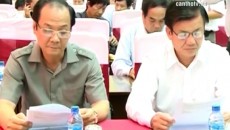 Steering board of MDEC-Sóc Trăng 2014 agreed many opinions in 2015, when takes place some important events of the country. So, localities should concentrate in organizing party conference at all levels next to national party congress. And the organizing board get experiences for following years, instead of choose locality to host MDEC in 2015.
By Ngọc Dung