Lotus flowers, the symbol of Dong Thap's tourism
Dong Thap is famous for its lotus fields. The motto of the province is 'Dong Thap, as pure as the soul of the lotus'. The noble beauty of lotus, the sacred flower of Buddhism, impresses the many tourists who visit the wild wetlands of the plain of reeds.
With a breathtaking natural landscape rich in cultural and historical treasures, Dong Thap typifies the Mekong Delta region. Its centerpieces are the immense lotus fields at the foot of the Go Thap national relic, the primeval cajuput forests of Xeo Quyt national park, and countless lotus ponds in between stretches of rice fields.
Tran Thi Thai, Vice Chairwoman of Dong Thap's People's Committee, said, "the beautiful lotus fields of the plain of reeds wild wetlands offers Dong Thap's best resource for tourism development. Lotuses grow naturally here, interspersed with rice fields."
Eco-tourism sites have been built in Dong Thap, increasing weekend visitors to the lotus fields of My Hoa and Tan Kieu districts and in recent years, the community-based tourism model has also expanded.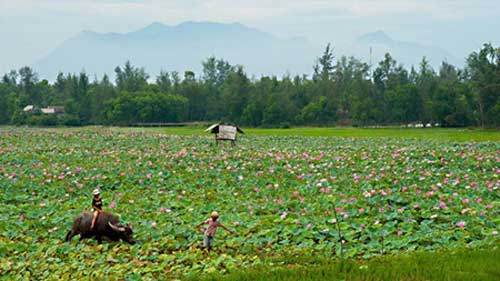 Visitors say they find peace and serenity in the fields of pink and white lotus blossoms. All their fatigue and stress seems to disappear.
The lotus flower is now considered the symbol of Dong Thap tourism, according to Nguyen Van Tiem, Director of the Xeo Quyt relic.
Tiem said, "The province plans to diversify its tourism products, but the lotus remains the key. Lotus fields and lotus-based dishes and drinks, have made Dong Thap famous."
The provincial tourism development project will turn Cao Lanh City into the capital of pink lotuses and green architecture and the Thap Muoi and Go Thap lotus fields into tourism hot-spots.
In downtown Dong Thap lotus flowers are now grown along major streets to welcome visitors to the land of the lotus.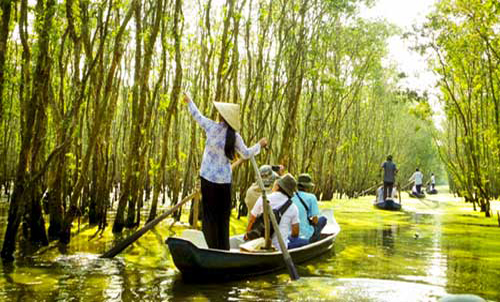 Le Phu Dung, Director of the Saigontourist branch in the western region, praised the province's dynamism because "we find the lotus fields and lotus harvests in Dong Thap very beautiful and interesting so we want to increase our tours in this area. Lately there's been a sharp increase in the number of river tours running through Dong Thap province.
A bridge will be built linking Dong Thap and An Giang province to connect Dong Thap, Long Xuyen, Chau Doc, and Ha Tien."
Tran Thi Thai said steps are being taken to develop and promote the unique tourism products of Dong Thap, including seasonal eco-tourism, river tourism, village visits, and culinary experiences.