Long An seeks better agricultural efficiency with UAV
Nguyen Chi Thien, deputy director of Long An Department of Agriculture and Rural Development said they had worked with Green and Green Agriculture Company to realise the plan to use UAV in agriculture. Each UAV can spray water or pesticides over 10 hectares of rice in eight hours, 30 times faster than people and can save up to 90% of the usual amount of water.
Moreover, they can be easily applied in large fields or over rough terrains. Each UAV can carry 10 litres of water and proved to be safer since the farmers do not face prolonged exposure to chemicals for a long time. Thien said the use of UAV will help boost farm automation to improve productivity.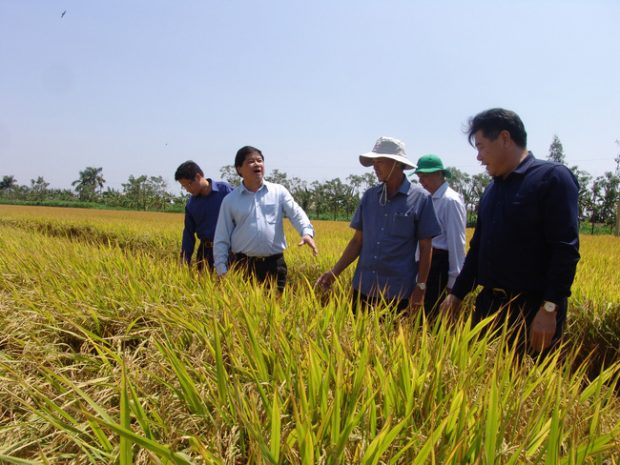 The delegation from the Ministry of Agriculture and Rural Development visits a field in Long An
Vuong Trong Nghia, chairman of An Long Cooperatives, said they had tried the UAV in Duc Hoa District. "We'll invest into the UAVs in the future," he said.
Dinh Van Chan, director of An Hi-tech Agriculture Cooperatives, also tried the UAV and confirmed that it will be a huge help for farmers and limit the negative impact of pesticides on the environment. The cost for manual labour is VND200,000 (USD8.6) per hectare, while the UAV is VND250,000 to VND300,000, but the UAV would help save time, water and pesticides.
The downside is the huge initial investment cost for the machine and the farmers must be trained to use them. Therefore, they must have plans for synchronised production in large fields.
Long An provincial authorities have implemented many mechanic solutions in the past years to boost productions and efficiency in agriculture. They had had certain achievements in tillage and harvest and got closer to the goal of agriculture reform. However, they still lack solutions for other steps like cultivating, tending and fertilising.
Since 2013, 48,000ha in 25 communes and towns in Dong Thap Muoi wetland are included in the plan for the high-quality rice production area for processed rice export. Farm mechanisation would be vital, especially in the processing and preservation stages, if they want to improve rice exports.
Nguyen Chi Thien, deputy director of Long An Department of Agriculture and Rural Development, said they needed a master development plan for the irrigation transport system and farm mechanisation. The province will continue the mechanisation process and will invest in harvesters and rice dryers in the near future.
Source: http://dtinews.vn/en/news/024/69285/long-an-seeks-better-agricultural-efficiency-with-uav.html