Lighting Incense to Pay Tribute to President Hồ Chí Minh
In the morning on July 27th, Cần Thơ city Public Security opened the ceremony on "Paying tribute to Uncle Hồ" at Uncle Hồ's statue, Ninh Kiều Quay on the 69th anniversary of the Day for Invalids and Martyrs, July 27th 1947 – July 27th 2016.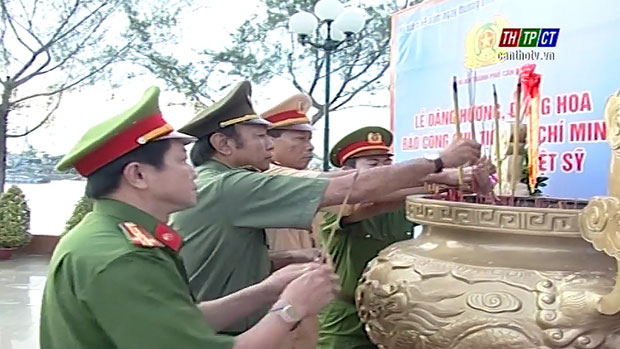 Lighting incense to pay tribute to President Hồ Chí Minh.
At the ceremony, Cần Thơ city Public Security reports gained results on building schools, bridges, opening free-of-charge checks-up for poor patients in recent years, offering houses of charity to policy families, and etc, cost nearly VND 2 billion 800 million and thousands of labor days.
After the achievement-reporting ceremony, ceremonial on offering wreaths and burning incense at Statue of President Hồ Chí Minh.
The occasion is in order to officials and solders of the city Public Security express respects for Uncle Hồ, through that, strive for learning, practicing by moral example of Uncle Hồ, well serving for professional missions and deserving to be people's soldiers./.
Translated by Phương Đài