Liem defeats Andyka Pitra in HD chess tournament
Vietnam's top chess player, Le Quang Liem, defeated Andyka Pitra of Indonesia in HCM City on March 12 during the first round of the masters category of the seventh HDBank Cup International Open Chess tournament 2017.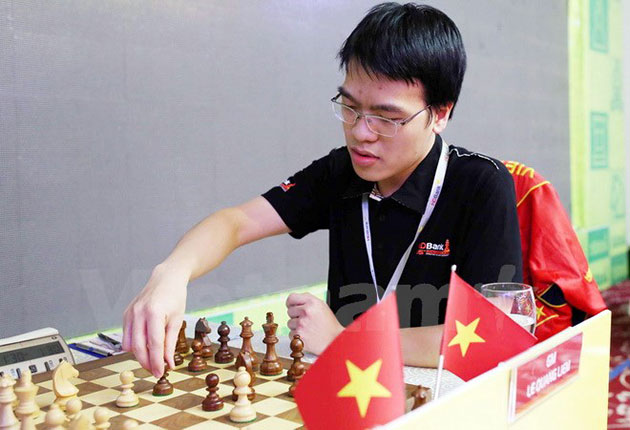 Chess player Le Quang Liem (Photo: VNA)
The 25-year-old Liem, with an Elo rating of 2712, is No 2 seed at the event. He will battle teammate Vo Thanh Ninh in the next round.
Liem's top rival, Wei Yi of China (Elo 2725), also beat Tu Hoang Thong of Vietnam. Yi will next meet Diu Viacheslave of Russia.
Also, Bu Xiangzhi of China bested his teammate Li Yankai. Xiangzhi will take on Cao Sang of Vietnam.
Although having the same one point but a difference on the auxiliary index, Yi temporarily took the lead in this division, followed by Liem and Xiangzhi.
Additionally, Vietnam players Tran Tuan Minh defeated Kathmale Sameer of India, Le Tuan Minh defeated Le Thanh Tu and Nguyen Anh Khoi won over Tran Ngoc Lan.
Vietnamese player Nguyen Ngoc Truong Son withdrew from the competition because of sickness.
In the Challengers category, Duong Thuong Cong of Vietnam temporarily topped the rankings after defeating teammate Vu Ba Khoi.
The event, which will offer a largest-ever bonus of 45,000 USD, will take place from March 12-17 in HCM City, with the participation of 230 players from 24 countries and territories./.
VNA
Link:
http://en.vietnamplus.vn/liem-defeats-andyka-pitra-in-hd-chess-tournament/108590.vnp