Laos, Vietnam step up inspection cooperation
Deputy Prime Minister Nguyen Xuan Phuc on June 15 received Vice President of the Lao Government Inspection Bounpone Sangsomsak.
Phuc said the Vietnamese Government has paid great attention to inspection work, dealing with complaints, and denunciations and considered corruption prevention to be a major task.
The Vietnamese Government will create the best possible conditions for the two countries to bolster their cooperation in inspection and fighting corruption, Phuc told his guest.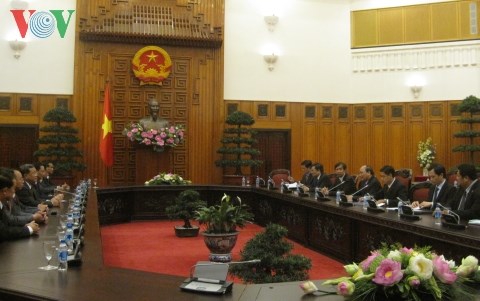 He also  reiterated the nation's willingness to help the Government Inspectorate receive and train their Lao counterparts each year, he said, adding that the two countries are working to deliver on commitments by their leaders at the 37th meeting of the Vietnam- Laos Inter-Governmental Committee last January.
The Deputy PM lauded the significance of the visit in enhancing the ties friendship and cooperation between the two Parties and countries for mutual benefit.
The Lao official informed Mr Phuc about the outcomes of his talks with the Vietnamese government inspectorates while expressing his hope that the two governments, States and peoples would continue fostering their ties.
 VOV