Inspecting Some Works, Projects
In the morning on July 25th, Chairman Võ Thành Thống and Vice Chairman Đào Anh Dũng of Cần Thơ city People's Committee and relevant agencies came to inspect 4 projects in the area, including Footwear Factory of Cần Thơ Tae kwang Limited Company, Cần Thơ city Factory for Drainage and Sewage Treatment Factory, Project on expanding Quang Trung – Cái Cui route and Project on Improving Highway 91B by BOT.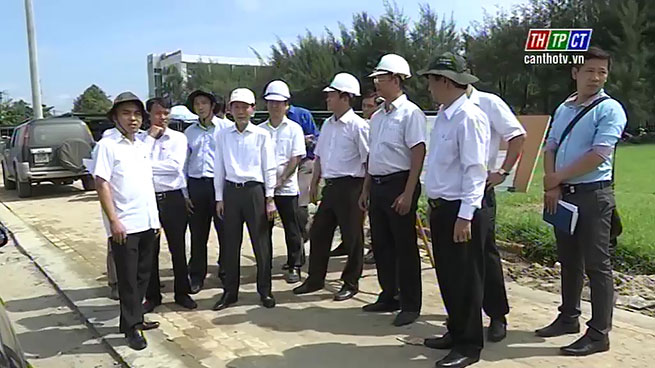 Leaders of Cần Thơ city People's Committee inspected some works, projects.
According to representative of Tae Kwang Cần Thơ Company, the project for shoes factory is in ground clearance over 7 ha.
According to schedule, in the early September, investor will start ground breaking and in December, the factory will be inaugurated, will officially operate in February 2017.
Another project for water supply and treatment of Cần Thơ Water Supply Joint Stock Company with 30,000 m³ capacity per day and night will soon be completed and officially operate.
Chairman Võ Thành Thống asked concern units to urgently carry out proposals, ensure its operation.
Regarding the project to widen Quang Trung – Cái Cui route, its progress rate reached 90%.
Leader of Department of Transportation focused on the rate of progress, the city will propose the central to arrange fund, strive for completing the project at the year end./.
Translated by Ngọc Dung