Hoang Xuan Vinh receives Cup of Victory as best athlete
Marksman Hoang Xuan Vinh won the Cup of Victory as the best male athlete of 2016 in a Gala awarding ceremony held in Hanoi on January 17.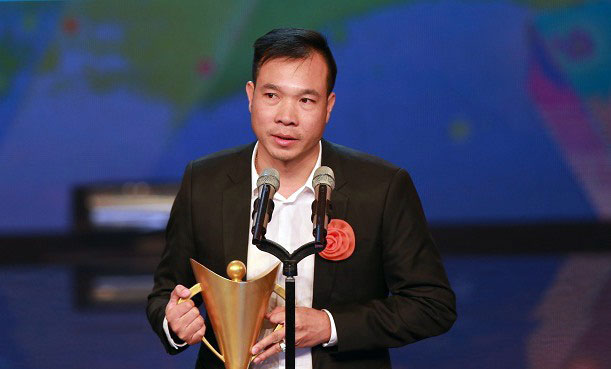 Marksman Hoang Xuan Vinh speaks to audiences after receiving his Cup of Victory in Hanoi. (Photo webthethao.vn)
The race for the so-called 'Vietnam Sport Oscar' is believed to be the biggest national prize for athletes who have competed and brought home success.
Vinh made history at the Rio Olympic Games as the first Vietnamese athlete to ever win a gold medal.
The 42-year-old armyman triumphed in the men's 10m air pistol event last August before taking a silver in the 50m pistol a few days later.
"It is a meaningful night for Vietnam sport and I myself earning this prestigious award.
The trophy is a recognition of the people who are a part of our achievement in sport. Thank you for that," Vinh said.
"The journey in the future is still tough. But I think that athletes with their determination and passion and people's support will grab higher results," Vinh added.
Swimmer Nguyen Thi Anh Vien, who is practicing in the United States took the trophy for the best female athlete of the year.
Vien won a gold and set a record of 4min 37.71sec at the Asian Swimming Championships' women's 400m individual medley event in Japan last November.
Vinh's outstanding achievement was the key element to help his coach Ngyen Thi Nhung winning the trophy for Coach of the Year.
"I want to share my happiness with other shooting coaches as well as all Vietnamese trainers," Nhung said.
"In my 10-year stint as the national head coach of shooting team I have dreamt of the day Vietnamese athletes, especially marksmen, could step onto the Olympic podium.
In my team, we made plans, we trained and overcame many difficulties to earn our victory. I cried, and I believed so did many other Vietnamese like me, when seeing our national flag raised in Rio," she said.
Powerlifter Le Van Cong added another title to his collection with a Cup for the Athlete with Disabilities.
It is a new category that the organisers decided to add to this year contest after the outstanding performance of Vietnamese athletes in 2016's international competitions.
Công made history when he won a gold medal and set a record of 183kg in the men's U49kg at the Rio Paralympic Games last year.
"It is an honour to receive this Cup tonight. I am proud of winning my gold in Rio, and bringing victory to our country. It resulted from not only my effort but also strong support of sports leaders, teammates, family and fans. Thanks all of you," Cong said on the stage.
The most favoured athlete trophy went to gymnast Pham Phuoc Hung.
It is the only among nine categories decided by the number of messages of fans sent to the organisers.
Hung received nearly 4,700 votes and came from behind to beat two other contestants, shooter Vinh and footballer Nghiem Xuan Tu, in the last few minutes before the end of voting time.
"It is great to know that many people, friends, family members and those unknown to me, voted for me. The career time of an athlete is short. A title like this is a goal that we target and it will be such strong encouragement that will push us for better results," Hung said.
Team of the Year title went to the U19 squad which made a big bang in Asian tournament with their semi-final result which brought them a slot in the FIFA U20 World Cup in the Republic of Korea later this year.
"Winning a berth to the World Cup was just the beginning. We are heading towards to the RoK in May where we will do the best to meet people's expectation as what they did give to us in this vote," said head coach Hoang Anh Tuan of the U19 team.
Other awards of the Gala yesterday were Best Sport Image of the Year – which went to the moment captured when shooter Vinh took part in the victory ceremony in Rio de Janeiro; Young Athlete of the Year – which went to 19-year-old runner Le Tu Chinh who won seven domestic and international tournaments in 2016, and the Sports Lifetime Achievement Trophy – which went to marathon coach Bui Luong who is 78 years old.
Among categories, the Best Male, Best Female and Lifetime Achievement winners received 50 million VND (2,200 USD) as a bonus in cash. The Best Sport Image winner was awarded 10 million VND, while the rest got 30 million VND each./.
VNA
Link:
http://en.vietnamplus.vn/hoang-xuan-vinh-receives-cup-of-victory-as-best-athlete/106041.vnp