The fourth Ao Dai (traditional long tunic) festival in Ho Chi Minh City, which attracted 70,000 visitors during its two-week course, was rounded off with a concert on the evening of March 17.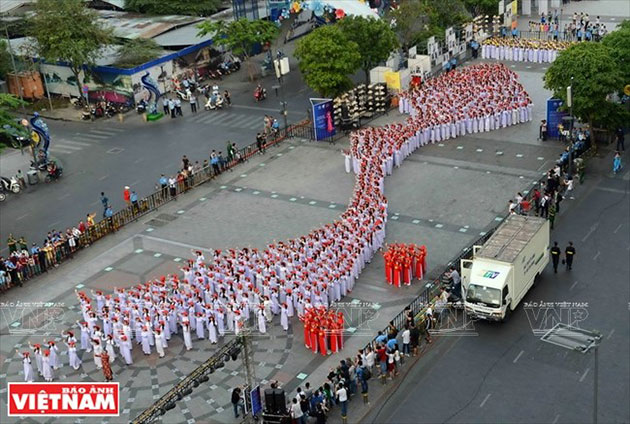 The special performance of 3,000 young faces in Ao Dai on Nguyen Hue street (Photo: VNA)
The event featured an Ao Dai show with the participation of foreign students, consuls and their spouses in the city as a symbol of community connection.
Addressing the closing ceremony, Director of the municipal Tourism Department Bui Ta Hoang Vu said the southern hub will develop the festival into a cultural tourism festival, making it a unique tourism product of the city.
On the occasion, 14 certificates of merit were presented to individuals and organisations with significant contributions to the event.
The city also announced that March 3 will be designated as the opening date for the annual Ao Dai festival.
The 2017 Ao Dai festival consisted of 13 activities, mostly taking place in open space.
A highlight of the event was a special performance of more than 3,000 young people in Ao dai, singing Vietnam Oi (Hi! Vietnam), a song in praise of country and Ao dai, on the Nguyen Hue Pedestrian Street./.
VNA
Link:
http://en.vietnamplus.vn/ho-chi-minh-city-ao-dai-festival-draws-70000-visitors/108891.vnp