A workshop was held in the Mekong Delta province of Can Tho on July 1 to seek ways to promote the application of the Green Lotus label in tourist accommodations in Vietnam with the ultimate goal of sustainable tourism development.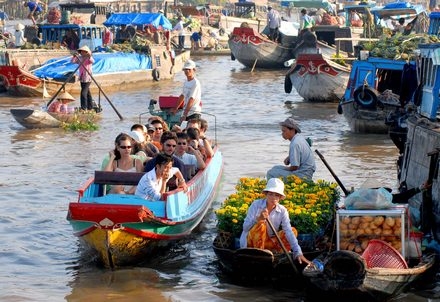 The Green Lotus label was initiated by the Vietnam National Administration of Tourism (VNAT) and approved by the Ministry of Culture, Sports and Tourism.
It is granted to tourist accommodations meeting environmental and sustainable development criteria helping to preserve heritages and develop the local economy, culture and society. The number of green lotuses for a particular establishment, from one to five, indicates each accommodation's level of effort towards environmental protection and sustainable development.
VNAT General Director Nguyen Van Tuan underlined the limited number of accommodations registering for and certified with the Green Lotus label. Only 33 hotels nationwide have received the certification, mostly in Ho Chi Minh City, Vung Tau city, Binh Thuan province, Khanh Hoa province, Da Nang city, Quang Nam province, Hue city, Hanoi and Bac Ninh province.
No facilities in the Mekong Delta have received the label, he stressed.
Data from the VNAT show that tourist accommodations in the region account for 8 percent of the facilities and 9 percent of the rooms in Vietnam. They concentrate in Can Tho city and the provinces of Kien Giang, Long An, An Giang, Tien Giang and Hau Giang.
Participants at the workshop said the recent proliferation of tourist accommodations in the Mekong Delta and in Vietnam as a whole have caused negative phenomena such as pollution, undermining tourism profitability and potentially damaging the national image.
They said relevant agencies should communicate to raise tourist facilities' understanding of sustainable development and encourage them to adjust their operations and register for the Green Lotus label. Facility managers should be aware that the label will provide them with an advantage to build efficient marketing strategies.
The application of the Green Lotus label not only helps accommodations develop sustainably but also agrees with Vietnam's tourism development orientations and meets economic integration demand, they noted.
Vietnamplus