Participants at a Food Safety Forum 2014 in Hanoi on November 12 stressed the need to ensure food hygiene and safety, which they said, plays a key role in promoting sustainable agricultural to boost economic growth.
The event, jointly held by the Ministry of Agriculture and Rural Development (MARD) and the International Support Group (ISG), aimed to seek measures for increasing added value and quality of Vietnamese agricultural products.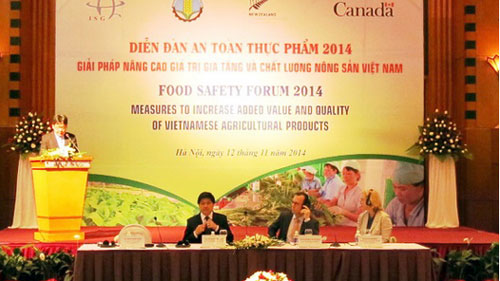 Delegates worked out a number of effective solutions to explore promising markets for Vietnam's safe farm produce.
They made proposals on intensifying inspection on food hygiene and safety, building added value chain for agricultural products, identifying producers' responsibilities, and protecting consumer rights.
MARD Deputy Minister Le Quoc Doanh laid emphasis on improving competitiveness of Vietnamese farm produce by increasing added value and quality to ensure food hygiene and safety, especially when Vietnam is integrating deeply into the world economy.
It is essential to reorganize production methods and keep close watch on target markets to meet consumer demand, he said. In addition, synchronized measures should be taken to yield high quality produce and raise value chain of local agricultural products.
Doanh called for joint efforts by State agencies, enterprises, farmers and consumers in ensuring food hygiene and safety. The MARD gives priority to improving the quality of seed varieties, fertilizers, animal food, and other types of agricultural materials, with a view to achieving sustainable development in the agricultural industry, he added.
VOV