The minimum score to be considered for university enrolment is 15 points, the Ministry of Education and Training (MOET) said on July 28.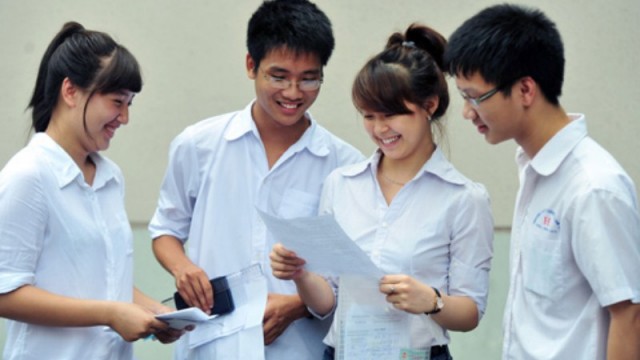 Students are required to take tests on three subjects that collectively add up to a maximum score of 30. The minimum score to enter colleges will be 12 points.
Universities are expected to announce their own enrolment scores before the beginning of next month.
Head of the Training Department at the Hanoi University of Science and Technology (HUST), Nguyen Phong Dien, said that the minimum score of 15 was quite low, but it would help newly founded universities and colleges to admit more students, with more than 700,000 candidates eligible to enter university.
Dien said that the enrolment score for HUST is 18. Nearly 20,500 university exam candidates, out of 720,000 in total, received less than one point in a subject, blocking them from entering university, the Ministry of Education and Training reported.
The subject of Mathematics tallied the highest number of under-one scores, nearly 18,000 candidates. More than 2,600 of those candidates scored zeros.
History ranked second, with 1,200 under-one scores. However, the number of candidates scoring 9 in History, 2,000 candidates, is much higher than expected.
In Foreign Languages, Literature and Geography, the numbers are 530, 492 and 375, respectively. Biology, Physics and Chemistry have the least number of under-1 scores.
The high school graduation rate for 2015 is 91.6 per cent; a marked decrease from the last few years. Candidates will begin to apply for admission to universities and colleges on August 1.
In 2014, the Ministry of Education and Training decided to combine the national high school exam and the university entrance exam. From 2015 onwards, students in Vietnam will only sit for one national exam. The exam for this year took place earlier this month.
These new exam results will be considered for both high school graduation and university admissions.
VNS