Film on Sai Gon's lifestyle wins Golden Kite award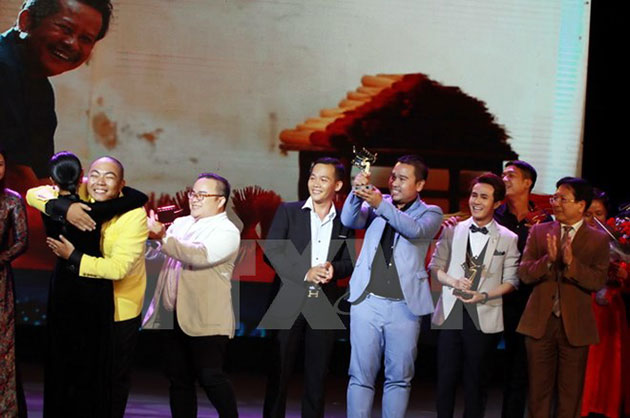 The organising board presents the best feature film prize (Photo: VNA)
The 90-minute comedy features five couples from different places and backgrounds who choose Sai Gon (HCM City) as their home and tells the stories of their loves and lives.
The culture and lifestyle of the Saigonese are highlighted throughout the film.
The production stars famous cai luong (reform opera) actress Ngoc Giau, young actress Maya, and young comic actor Huynh Lap, who also received the award for best supporting actor.
The film also won prizes for best screenplay and best cinematography.
Vu Ngoc Phuong, director of 12 Chom Sao: Ve Duong Cho Yeu Chay (12 Zodiac: Five Steps of Love), was awarded the best director prize.
Phuong, a graduate of screenwriting at The London Film School in the UK, is known for such films as Wing and What If, and music videos for famous singers like Son Tung M-TP and Truc Nhan.
The 31-year-old director also participated in writing screenplays for movies for young people, like Chang Trai Nam Ay (Dandelion) and Ngay Nay Ngay Nay (The Lost Dragon).
The film's leading role Vu Phuong Anh and supporting role Nguyen Do Quynh Chi were presented awards for best actress and best supporting actress, respectively.
The best actor award went to Ha Hien in director Viet Max's Sut (Shoot).
The Golden Kite award for best TV series was presented to Vietnam Television Film Centre's Zippo, Mu Tat Va Em (Zippo, Mustard and You), featuring love and friendship of young and successful people.
Its directors, Meritorious Artist Trong Trinh and Tien Huy, received best director awards.
The Vietnam Animation Studio's Cau Be Ma-No-Canh (Mannequin Boy) was voted the best animated film, while its director, Meritorious Artist Pham Hong Son, was named best director.
The award for best documentary film went to Mot Giai Phap Chong Soi Lo O Bien (A Preventive Measure of Coastal Erosion) by director Phung Ngoc Tu.
The 2016 Golden Kite award honoured veteran directors Nguyen Khac Loi and Tran Phuong for their contributions to the industry.
This year's competition received 145 entries, including 19 feature films, 21 TV series, 13 cartoons, 57 documentary films, 15 scientific films and 20 short films.
Thousands participated in a week of free screenings, which featured nominees for the awards, beginning on April 1 at Cinebox, Cinestar Quoc Thanh, CGV Thao Dien, and BHD cinemas./.
VNA
Link:
http://en.vietnamplus.vn/film-on-sai-gons-lifestyle-wins-golden-kite-award/109969.vnp