Exhibition highlights Vietnam's names, capitals throughout history
An exhibition on Vietnam's names and capitals throughout its history opened at the Hue Citadel in the central province of Thua Thien–Hue on September 1 on the occasion of the 71st National Day (September 2).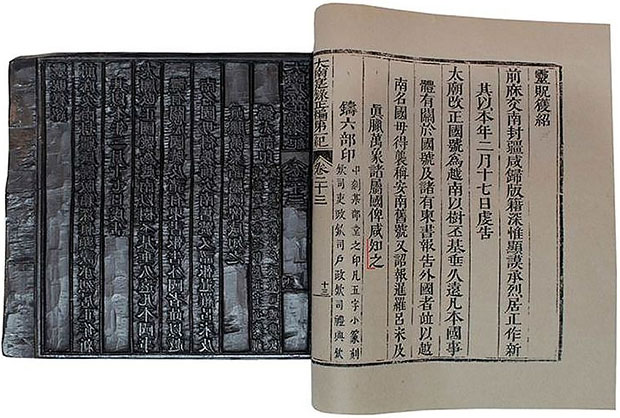 A woodblock from the Nguyen Dynasty.
On display are photos and copies of eighteen pages of royal documents and eighteen pages of woodblocks from the Nguyen Dynasty (1802-1945).
Director of the Hue Monuments Conservation Centre Phan Thanh Hai said that, Vietnam has changed its name and capital city many times, as recorded in documents from various dynasties throughout Vietnamese history, the most recent being the Nguyen Dynasty, Vietnam's last monarchy.
The royal documents and woodblocks show that from its foundation to 1945, the country has had nine names, from Xich Quy to Van Lang, Au Lac, Van Xuan, Dai Co Viet, Dai Viet, Dai Ngu, Dai Nam and, now, Vietnam.
The adoption of the name "Vietnam" under the Nguyen Dynasty was an important historical milestone, he added.
The exhibition will remain open to visitors until December 1./.
NDO/VNA
Link:
http://en.nhandan.com.vn/culture/item/4589002-exhibition-highlights-vietnam%E2%80%99s-names-capitals-throughout-history.html