Do My Linh, a 20-year-old student from the Hanoi Foreign Trade University, was crowned the first Miss Vietnam 2016 in the final of the national beauty pageant held at Phu Tho Sporting Event Hall in Ho Chi Minh City on August 28.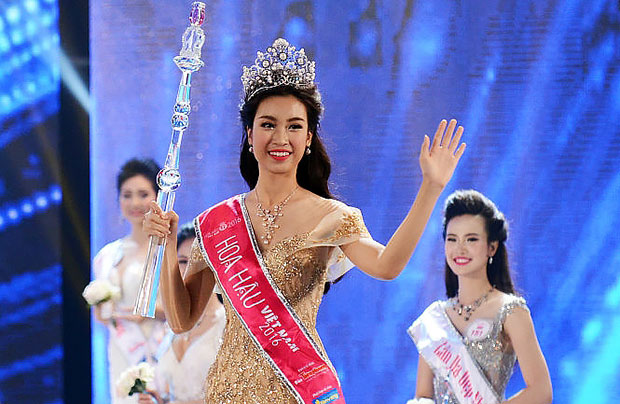 Do My Linh crowned Miss Vietnam 2016. (Photo: Nhan Dan Online)
She overcame 29 other candidates to win the top prize, including a crown handcrafted with 63 pearls and 3,260 sapphires by 40 artisans other the course of more than three months, and received a cash award of VND 500 million (US$22,400).
The 1.71-meter-high student showed off not only her shapely figure, with bust-waist-hip measurements of 87cm-61cm-94cm, but also her wisdom when tactfully answering a question raised by the contest's judges, "Many youths regard working wholeheartedly and enjoying life to the fullest as their philosophy of life. Do you agree with this viewpoint?".
Linh answered, "I'd like to use the phrase 'live one's life to the fullest', instead of 'enjoy'. While sparing no efforts to work, people have the right to live their lives to the fullest in their own ways."
Linh is enthusiastic about work, and she sings well. She advanced to the Top 15 in Miss Universe 2015.
Additionally, Ngo Thanh Thanh Tu and Huynh Thi Thuy Dung were the first and second runners-up, respectively. Huynh Thi Thuy Dung, a 20-year-old student at the Ho Chi Minh City Foreign Trade University, also earned the title 'Miss Talent'.
The organising board also presented sub-awards such as the Miss Humanity, Miss Beach, Miss Ao Dai (a traditional Vietnamese dress) and Miss Beautiful Face, along with Miss Beautiful Hair and Miss Party Dress to outstanding contestants.
The final night featured songs and dances performed by popular Vietnamese singers including Ha Anh Tuan, Noo Phuoc Thinh, Toc Tien, Thu Minh and Dong Nhi as well as pop star Bi Rain from the Republic of Korea./.
Nhan Dan Online
Link:
http://en.nhandan.com.vn/culture/lifestyle/item/4579302-do-my-linh-crowned-miss-vietnam-2016.html