Cờ Đỏ District People's Council Opens Its 2nd Session
On August 1st, the 2nd session of the 11th Cờ Đỏ district People's Council for 2016-2021 officially opens.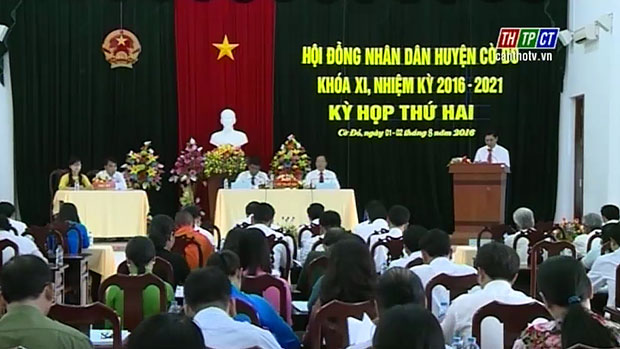 2nd Session of Cờ Đỏ District People's Council.
Ms. Võ Thị Hồng Ánh – Vice Chairwoman of Cần Thơ city People's Committee and deputies of the district joined in.
Implementing resolution, in the first 6 months, the district successfully produced winter-spring and spring-summer rice crops with the yield of 322,000 tons, meeting 80% year plan.
Budget collection gained VND 244.980 billion, approximately 53%.
Social and cultural fields are well implemented.
One school at national standard has been recognized, increasing the total number of standard school to 23 per 47.
61% of population is mobilized to participate in health insurance.
The district also built and handed over 66 houses of comrade and compassionate to poor and policy households with the total capital of VND 2.690 billion and organized 20 vocational trainings for rural laborers.
At the session, delegates listens to documents on budget spending and collection in the first 6 months, activities of the people's council, and result of solving opinions and suggestions posed by voters and others reports.
The session takes place in August 1st and 2nd 2016./.
Translated by Anh Vi