Climate change a threat to Mekong Delta
Politburo member and Deputy Prime Minister Vuong Dinh Hue emphasized that climate change is posing serious threats to the Mekong Delta, which produces half of Vietnam's rice output and 65% of aquaculture products.
The Deputy PM, who is also Chairman of the Southwestern Steering Committee, spoke on the issues in his opening speech for the 9th Mekong Delta Economic Development Forum (MDEC), which opened on July 11 in Vi Thanh City, Hau Giang province.
He noted that the Party, National Assembly and central Government, as well as Party organisations and administrations of Mekong Delta localities, have been looking for integrated solutions and long-term strategies to ensure the region's sustainable development and local residents' livelihoods.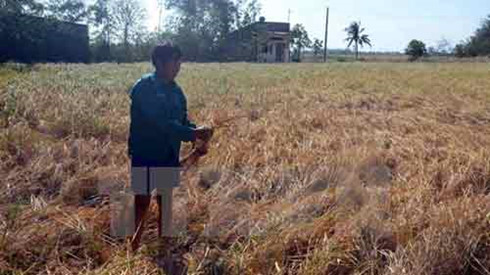 Deputy PM Hue noted that the previous eight MDEC forums have outlined many mechanisms and policies aiming at enhancing the region's internal connectivity and cooperation as well as external economic links.
He suggested the forum this time will give businesses, donors and other localities a chance to seek opportunities in the Mekong Delta, while local administrations will study how to better respond to investors' demands.
The Deputy PM took the occasion to announce that the World Bank and the State Bank of Vietnam signed an agreement in Can Tho City on a US$560 million loan package for climate change adaptation and sustainable development of the Mekong Delta on the same day as the opening of the MDEC forum.
The 9th MDEC, which has the theme of "Mekong- Delta- Active Integration and Sustainable Development", will focus on major issues related to climate change and sea level rises, such as drought and salinity intrusion, along with technology applications in agriculture and the marketing of local produce, particularly rice, fruits and aquatic products.
At the end of the week, the forum's participants plan to issue a joint statement, with suggestions on solutions for the region's development. It will be sent to the Prime Minister for approval.
"Climate change is no longer an abstract warning, but is directly threatening the delta's sustainable development," Son Minh Thang, deputy chairman of the Southwestern Steering Committee, said.
With recent events like the historic drought, the worst in 90 years, along with saline intrusion, the need to improve linkages among provinces as well as with other regional countries is more important than ever, Thang said.
With 1.5 million hectares of land for paddy cultivation, the Mekong Delta plays a key role in the country's food security. It produces 50% of rice output and 70% of fruit in the country, while contributing 65% of seafood exports, and 90% of rice exports.
It has 700km of coastline with picturesque beaches, three biosphere reserves recognized as international Ramsar sites, a rich resource for tourism development.
As of June 2016, the delta attracted 1,348 foreign direct investment projects with total registered capital of US$20 billion, contributing seven percent of the country's FDI, according to the Ministry of Planning and Investment.
The Mekong Delta comprises Can Tho city and 12 provinces – Long An, Dong Thap, Tien Giang, Vinh Long, Tra Vinh, Ben Tre, An Giang, Hau Giang, Soc Trang, Bac Lieu, Ca Mau and Kien Giang.
VOV