Cần Thơ Leader Works With Nhơn Nghĩa Commune
On the afternoon of October 6th, Mr. Lê Văn Tâm – Standing Member of Cần Thơ city Party Executive Committee – Standing Vice Chairman of the city People's Committee and leaders of agencies worked with the city People's Committee of Nhơn Nghĩa commune, Phong Điền district on results of implementing tasks on socio-cultural field in the first 9 months of 2016.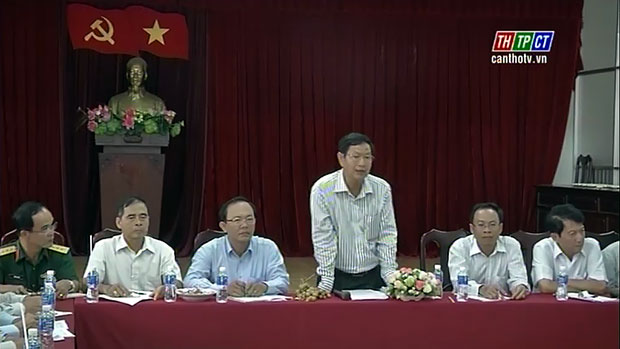 Mr. Lê Văn Tâm (standing) presided over the meeting.
In the first 9 months of this year, socio-cultural missions of the commune were implemented rather well and gaining satisfactory results.
The rate of 5 year-old children completing kindergarten; children going to school and the rate of secondary school graduates for 2015-2016 reached 100 percent.
The commune also carried out medical programs on caring people's health; well concerned check-up and treatment for health insurance holders.
At once, policy-categorized families were well cared and jobs were created for 800 laborers.
Regarding culture and sports, movements were opened widely.
Particularly tourism activities, ecological tourism sites in the area lured 75 thousands of visitors.
At the meeting, Mr. Tâm appreciated gained results of the commune.
In order to fulfill duties, from now till the year end, the locality needs to continue maintaining and promoting achievements./.
Kiều Oanh – Đỗ Trung
Translated by Phương Đài