Chairman of the People's Committee of the Mekong Delta city of Can Tho Vo Thanh Thong on August 13 held a working session with a Japanese delegation to discuss cooperation opportunities in agriculture and personnel training in the sector.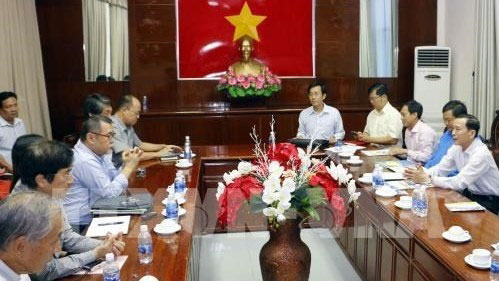 At the working session (Source: VNA)
The Japanese delegation includes Hitoshi Kinouchi, a professor of Tokai University; Susumu Ishihara, an advisor of Japanese language training; and Masayuki Abe, Director of the Human Resource Research Institute and Director of the Vietnam Agricultural Information Centre (VAIO).
According to Hitoshi, the Mekong Delta is similar to Japan t as it possesses small-scale agriculture with production mainly conducted by households, thus hindering product processing and distribution to companies.
He added also that Japanese farming households have grouped into cooperatives to tackle the problem and also sell agricultural products with high prices.
Hitoshi suggested that Japan and Can Tho should partner with each other in the farming sector, stating that the most important issue is how to improve agricultural quality and technology.
For his part, Thong said Can Tho is interested in partners and investors from Japan and wishes to cooperate with the Japanese side in personnel training, especially in relation to the farming sector.
He called on Japan to provide technical support for Can Tho and consider dispatching volunteers to Can Tho to take part in high-tech agriculture research programmes, while also helping local farmers access the market and apply bio-technologies in the sector.
The official also highlighted Can Tho's call for investments in high-tech agriculture parks in Thoi Lai and Co Do districts.
Thong suggested that the Japanese side should assist the city to build a website in Japanese to facilitate the sharing of market information between the two sides.
Can Tho is now home to 13 projects invested by Japanese firms with a total investment of US$ 10.5 million./.
NDO/VNA
Link:
http://en.nhandan.org.vn/business/item/5416102-can-tho-japan-seek-cooperation-opportunities-in-agriculture.html