Cambodian Prime Minister starts Vietnam visit
Cambodian Prime Minister Samdech Akka Moha Sena Padei Techo Hun Sen began a two-day official visit to Vietnam from December 20.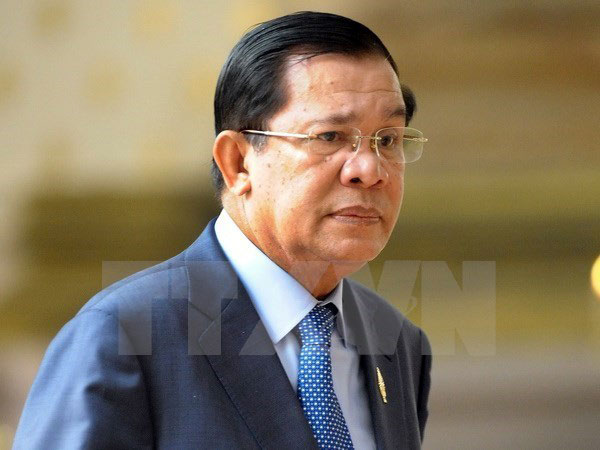 Cambodian Prime Minister Samdech Akka Moha Sena Padei Techo Hun Sen (Photo: VNA)
The visit takes place at the inivation of Prime Minister Nguyen Xuan Phuc amid growing cooperation between the two countries, that share a borderline of over 1,000km spanning nine Vietnamese privinces and 10 Cambodian localities.
PM Hun Sen is accompanied by Deputy PM and Minister of National Defence General Tea Banh, Senior Minister and Minister of Foreign Affairs and International Cooperation Prak Sokhon, Senior Minister and Chairman of Cambodia's National Border Committee Var Kim Hong, Senior Minister and Minsiter of Cults and Religion Him Chhem, Minister of Rural Development Ouk Rabun, Minister of Mines and Energy Suy Sem, Minister of Commerce Pan Porasak, Minister of Agriculture, Forestry and Fisheries Veng Sakhon, and other high-ranking Government officials.
Economically, Vietnam is the fifth largest investor in Cambodia, after China, the Republic of Korea, the European Union and Malaysia, with 183 investment projects and a total registered capital of 2.86 billion USD.
Cambodia is running 12 projects with a combined investment capital of 54 million USD in Vietnam.
Vietnam is currently Cambodia's third biggest trade partner. Two-way trade between the two countries hit 3.37 billion in 2005 and 2.38 billion USD by the end of October, 2016./.
VNA
Link:
http://en.vietnamplus.vn/cambodian-prime-minister-starts-vietnam-visit/104537.vnp