Businesses seek to break into Russian market
Vietnamese businesses and their compatriots in Russia discussed the possibility of increasing Vietnamese exports to Russia, in an effort to boost trade ties between the two countries.
The meeting, held in Moscow on September 15, also offered Vietnamese businesses a chance to explore investment opportunities and economic cooperation potential, especially when a free trade agreement between Vietnam and the Customs Union of Russia, Belarus and Kazakhstan is going to be signed soon.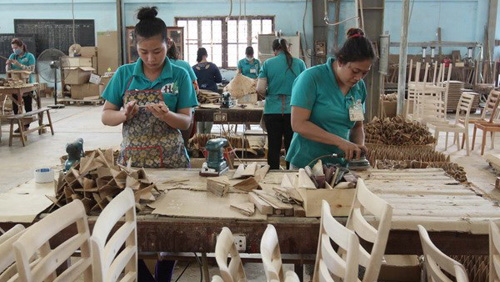 Russia is facing economic sanctions imposed by the European Union and US due to the Ukraine crisis. It is implementing a strategy for boosting domestic production to reduce its overdependence on Europe, by looking to Asia including Vietnam which has established a comprehensive strategic partnership with Russia.
Deputy Minister of Industry and Trade Do Thang Hai said it's time for Vietnamese businesses to expand operation and increase their presence in Russia.
At the gathering, representatives of the Bank for Investment and Development of Vietnam (BIDV) announced a US$3,000 billion credit package to support Vietnamese exports to Russia, and another US$50 million credit package for a Russia-based industrial park project.
The meeting was attended by more than 30 outstanding Vietnamese enterprises operating in the fields of production, imports and exports, and travel, and representatives from MoIT, the Ho Chi Minh People's Committee, BIDV, and the Vietnamese Embassy in Russia.
Russia, a traditional market of Vietnam, houses large numbers of Vietnamese expatriates. However, bilateral trade ties are yet to match the two countries' potential and political commitments. Promoting trade cooperation is the common goal of both Vietnam and Russia to deepen their comprehensive strategic partnership./.
VOV