After tasting Vietnamese cuisines during his trip to Vietnam, a British man collected more than one million pounds to open a Vietnamese restaurant named "Hộp" (Box) in London.
Graduating in finance, after six years working for an investment bank in London, Paul Hopper (born 1984) in late 2012 decided to explore several countries in Southeast Asia, including Vietnam.
In Vietnam, he "fell in love with" the intimacy, friendliness of the people, and the fresh and tasty food, especially sidewalk restaurants in Hanoi, Hue, Da Nang, HCM City, with their colorful plastic tables and chairs, and the "fast food" serving style.
"I was very impressed with the popular rice restaurants in Vietnam. They serve food very quickly and conveniently, suitable for lunches for office workers and laborers. At that time, I thought why don't bring this model to London? Fast but fresh food for office workers who have too little time for meals," he said.
He said that he visualized the way of selling Vietnamese cuisine in London. Food will be packed in boxes so that customers can buy and take it to their working table. Therefore, the name of the restaurant was already "Hộp" (Box).
After returning home, Hopper spent 18 months implementing his business ideas. To have enough time to experience and explore the flavors of Vietnamese sidewalk cuisine, he invited some friends to return to Vietnam. They traveled throughout the country to learn about the taste of "Vietnamese street foods" that everyone can enjoy at street corners and pavements.
Hopper invested up to 1 million pound in this project. He said in addition to a small amount of his own capital, he mobilized money from other individuals.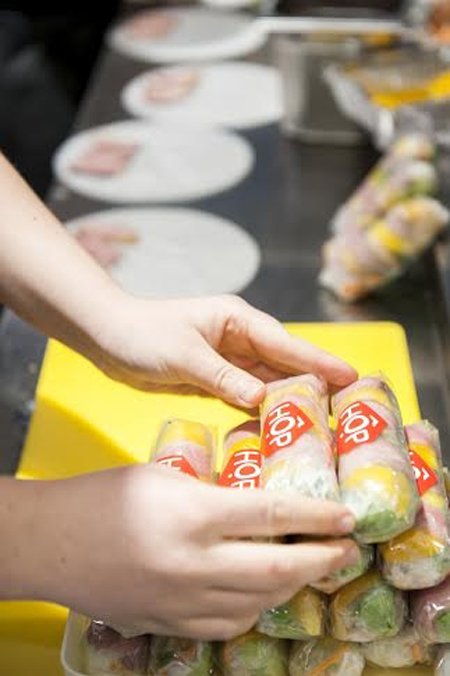 As a foreigner who did not have a long attachment to Vietnam, it was difficult for Hopper to open his Vietnamese restaurant. He said he was lucky that he could find suppliers of Asian materials right in London.
From his trips to many cities of Vietnam, he found that the locals were very creative with every dish. And he also wanted to "imitate" in a flexible way the Vietnamese dishes in his country. In addition to adhering to the principles of traditional Vietnamese cuisine, Hopper also combines some flavors and ingredients of British cuisine.
Currently, the restaurants have Vietnamese pho, rice, vermicelli, coffee and rolls. The food is packed in paper bags with pictures of daily life in Vietnam. He also offers sauces.
Hopper also spent a lot of time on interior design to help diners feel the atmosphere of the sidewalk restaurants in Vietnam. He said he wanted diners to feel the bright, lively, fun atmosphere of the streets of Vietnam in the heart of London.
He uses plastic tables and chairs in the shop, and has many photos on the walls that he took in Vietnam.
The restaurant is located in the central area so its customers are mainly office workers who need fast and delicious food for lunch. Most of them buy food and take it to their desks.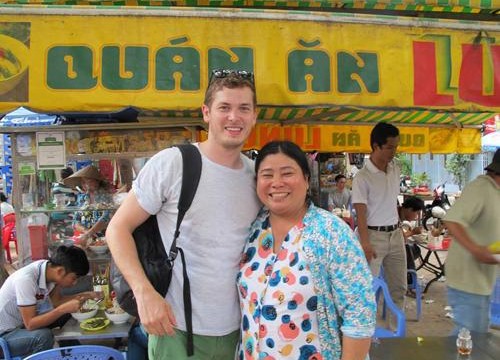 "My restaurant is the only Vietnamese restaurant in London that sells food in the grab and go style. The purchase process takes only a few minutes," he said.
Although the restaurant does not serve food at tables, Hopper still has 15 permanent employees.
After nearly two months, Hop serves 40 Vietnamese dishes at an average price of £6.25.
Hopper said he has about 650 diners per day, earning a daily revenue of £4,000.
He plans to open 30-40 similar restaurants throughout the UK.
"I want to share with people in the UK the exciting dining experiences that I enjoyed on the sidewalk in Vietnam," he said.