ASEAN remains big priority in Japan's foreign policy
Japan affirmed that ASEAN remains a big priority in its foreign policy at the 32nd ASEAN-Japan Forum held in Banda Seri Begawan, Brunei, on March 1-2.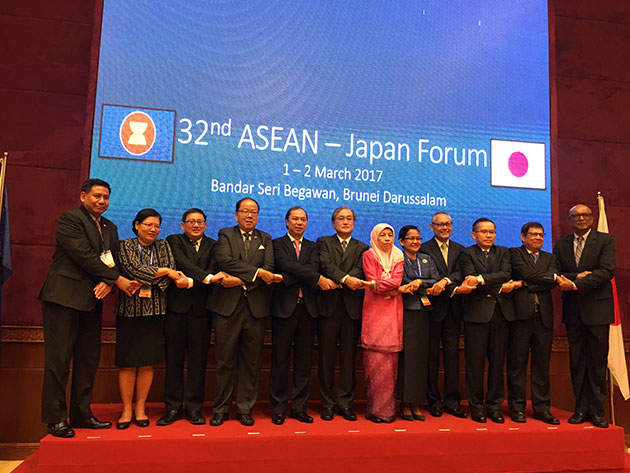 Participants in the 32nd ASEAN-Japan Forum pose for a photo (Photo: VNA)
The event was co-chaired by Brunei Deputy Foreign Minister Emaleen and Japanese Deputy Foreign Minister Takeo Akiba.
The Vietnamese delegation was led by Deputy Foreign Minister Nguyen Quoc Dung.
The forum reviewed ASEAN-Japan cooperation, emphasising that Japan has become an important partner of the grouping in all spheres.
Japan affirmed its support for ASEAN's central role in an evolving regional architecture. It also welcomed the theme and the six priorities of ASEAN 2017, noting that it is ready to participate in and assist the realisation of these priorities, along with activities to mark the 50th founding anniversary of ASEAN.
The two sides also renewed the commitment to continuing close cooperation in the fields listed in the Vision Statement on ASEAN-Japan Friendship and Cooperation, including economy, quality of life, people-to-people exchange, and peace and security.
Japan pledged to keep assisting ASEAN to carry out the Initiative for ASEAN Integration and the Master Plan on ASEAN Connectivity.
Both sides also expressed advocacy of regional economic connection and trade facilitation processes towards high-quality, equal and transparent free trade agreements.
They also voiced concerns about recent developments in the Korean Peninsula and the East Sea situation, underlining the importance of maintaining peace, stability, security, safety and freedom of navigation and aviation in the East Sea, and peacefully resolving disputes on the basis of international law.
Deputy Minister Dung said Vietnam treasures the ASEAN-Japan strategic partnership and welcomes the recent outcomes of bilateral cooperation.
Speaking on behalf of ASEAN, he said the two sides should implement the orientations approved by their leaders through concrete cooperation mechanisms, frameworks and projects, including carrying out the ASEAN-Japan 10-year strategic economic cooperation roadmap and amending the implementation plan for the Vision Statement on ASEAN-Japan Friendship and Cooperation.
Navigation and aviation connectivity between ASEAN and Japan should be strengthened, he said, elaborating that they need to soon finalise a bilateral agreement on aviation services.
Repeating the stance of Vietnam and other ASEAN members on the East Sea issue, he stressed the importance of the peaceful settlement of disputes through complying with international law, including the 1982 UN Convention on the Law of the Sea, respecting legal and diplomatic processes, not using or threatening to use force, exercising self-restraint, not conducting militarisation activities, effectively implementing the Declaration on the Conduct of Parties in the East Sea, and finalising a Code of Conduct in the waters as soon as possible.
He delivered Vietnam's wish for ASEAN member countries to step up collaboration in combating trans-national criminals./.
VNA
Link:
http://en.vietnamplus.vn/asean-remains-big-priority-in-japans-foreign-policy/108096.vnp