Vietnamese talent swimmer Nguyen Thi Anh Vien experienced a successful competitive day, grabbing two additional gold medals and setting two new records at the 28th Southeast Asian Games.
In the women's 200 m backstroke, Anh Vien won a gold medal with her victory of 2' 14'' 12. About 30 minutes later, Anh Vien continued to pocket another gold medal with her achievement of 2' 13'' 53 in the women's 50 m butterfly swimming. With the result, Anh Vien won two new records in this year's SEA Games.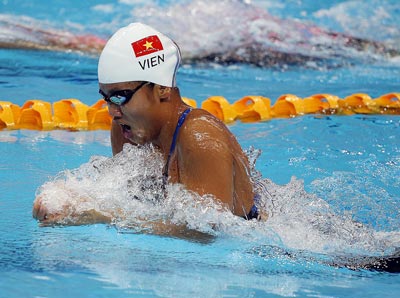 Earlier, Anh Vien did not compete successfully in the women's 50 m butterfly swimming after losing two strong Singaporean competitors Tao Li and Quah Tinh Wen.
In the men's 100 m freestyle swimming, Hoang Quy Phuoc won a bronze medal with the victory of 50'' 60.
Yesterday also was a successful competitive day of Vietnamese fencers, shooters and wushu athletes.
Particularly, Vietnamese fencers excellently won two gold medals at this year's SEA Games. In the category of women's fencing group, Vietnam team beat Thailand with the score of 45- 25 in the final round; and earlier, our fencers excellently grabbed a gold medal after beating Philippines athletes in the finals.
In women's 78 kg judo competition, Nhu Y grabbed a gold medal after knocking out Myanmar competitor Aung Aye in the finals. Moreover, Nguyen Thi Huong and Tran Thuong bagged two bronze medals for Vietnam sport delegation.
Meanwhile, Duong Thuy Vy continued to have a successful competitive day to win a gold medal with the score of 9, 70 in wushu competition. This is considered as the first gold medal of Vietnam's wushu team at the 2015 SEA Games because earlier Vietnam only had a silver medal in the men's Tai Chi category.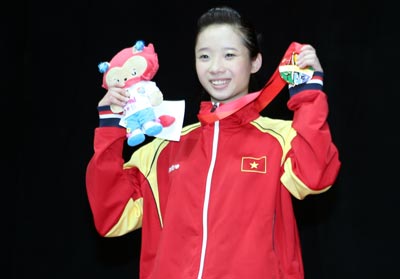 Vietnam sport delegation yesterday had two gold medals in shooting category as Hoang Xuan Vinh, Tran Quoc Cuong and Nguyen Hoang Phuong won the first gold medal in men's 10 meter air pistol group final, and Tran Quoc Cuong won the second gold medal in the men's 10 meters short air pistol individual final. Additionally, Hoang Xuan Vinh grabbed additional bronze medal for Vietnam with achievement of 178, 2 points.
As schedule, Vietnam delegation participates in swimming, billiards and snookers, apparatus and boxing category on June 8.
SGGP