Acupuncture helps autistic children
More than 1,500 children with autism come to the National Hospital of Acupuncture for treatment every year, said head of the hospital Associate Prof. Dr. Nguyen Ba Quang at a recent conference on Vietnamese high-tech acupuncture therapy for paediatric diseases and cerebrovascular diseases.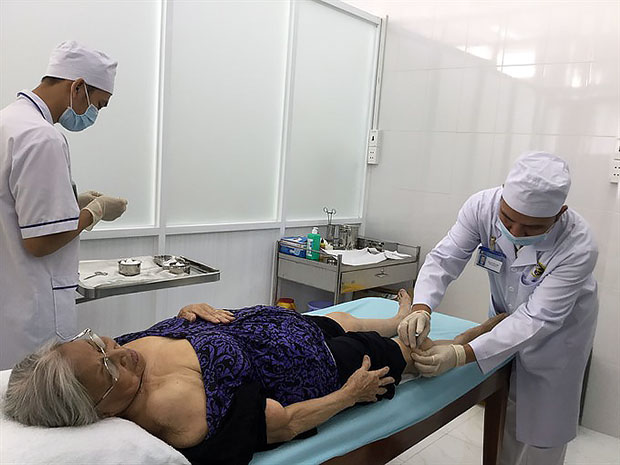 Dr. Van Cong Vien, deputy head of the general outpatient ward at Ho Chi Minh City Traditional Medical Institute, inserts thread at specific points in a patient with osteoarthritis. (Photo: VNA)
Quang said that at the hospital's ward for acupuncture therapy and special care for children with autism, these children are used to many kinds of acupuncture, such as hydro-acupuncture, in which vitamins and nerve tonic are injected, acupressure and thread embedding, in which thread is inserted at specific points.
The acupuncture therapy in cooperation with modern medicine, psychology, as well as behavioural science for autism has been applied at the hospital for many years, he added.
Prof. Dr. Nghiem Huu Thanh, the hospital's former head, told Vietnam News that "acupuncture therapy helps develop brainpower and makes it easier to obtain skills and knowledge".
Dr. Le Van Hai, head of the general outpatient ward at Ho Chi Minh City Traditional Medical Institute, said that the institute also used acupuncture and thread embedding to provide assistance in the treatment of children with autism.
According to Quang, it is estimated the country has more than 160,000 children with autism.
This cooperative treatment was highlighted by doctors at the conference.
Via the conference, the doctors from 24 southern and central highlands provinces and cities also were trained in high-tech acupuncture for cerebrovascular diseases.
At the event, 100 patients with diseases relating to nerve, spine and paralysis caused by cerebrovascular diseases were treated with acupuncture therapy including thread embedding./.
VNA
Link:
http://en.vietnamplus.vn/acupuncture-helps-autistic-children/101531.vnp