ABG5: Vietnam maintains lead with four more golds
Vietnamese athletes shined on October 1 with three gold medals in Pencak Silat at the fifth Asian Beach Games (ABG5).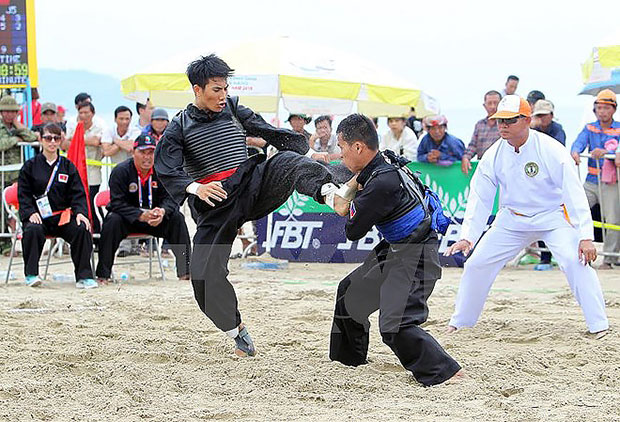 Pencak Silat athlete Vu Van Kien of Vietnam (L) at Jacizen Abad of the Philipppines in the men's 45-50kg category (Source: VNA)
Nguyen Thanh Tri beat Slaeh Sabidee of Thailand to take gold medal in the men's 45-50kg category.
His teammates Vu Van Kien and Nguyen Ngoc Toan won gold medals in the men's 50-55kg and men's 55-60kg divisions, respectively.
In wrestling, Nguyen Thi Xuan brought home gold medal in the women's under-50kg category.
Xuan's teammates Nguyen Thi Vinh and Dao Thi Hung got silver and bronze medal in the women's under-70kg and women's under-60kg events, respectively.
Vietnam still stood at the top of the medal tally with 42 golds, 36 silvers and 42 bronzes at the end of October 1.
It was followed by Thailand with 34 golds and China with 12 golds./.
VNA
Link:
http://en.vietnamplus.vn/abg5-vietnam-maintains-lead-with-four-more-golds/99857.vnp