VN asks for quickly finding culprit in death of Vietnamese girl in Japan
The Vietnamese embassy in Japan has immediately taken citizen protection measures upon learning that a Vietnamese third-grade girl, Le Thi Nhat Linh, was found dead in Abiko city, the Japanese prefecture of Chiba.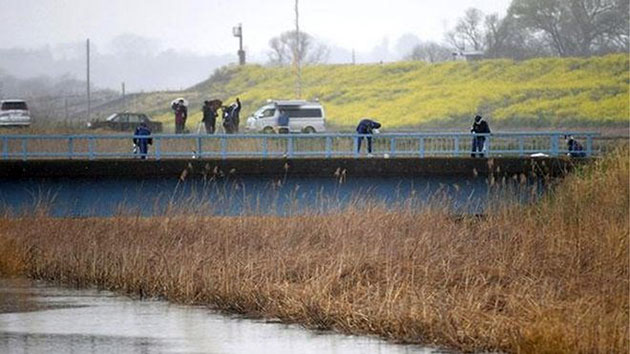 Scene of the death (Source: Kyodo)
During a working session on March 27, representatives from Abiko and Chiba police departments told the embassy staff that an investigation is underway to determine the cause of her death.
First Secretary of the Vietnamese embassy in Japan Tran Huu Tho asked the Japanese police to strive for the work.
In a message sent to the embassy, the Abiko Police Department said injuries have been found in the genital area according to the preliminary autopsy.
The Japanese agencies concerned promised to announce the investigation results as soon as possible and the police said they will try their best to deal with necessary work to hand over the victim's body to the family for a funeral in Vietnam.
Linh reportedly usually went to school by herself at 8am as the school is only about 800m from her house.
Her family reported her missing to police after they failed to find her when the teacher phoned at 9m to inform that she had not shown up at school on March 24 morning.
While she was unaccounted for, a dead girl without clothes or other items that could be her belongings was found on March 26 morning at a site near a drainage ditch which is about 10-12km from the school.
Police confirmed her as Nhat Linh and is hunting for the culprit.
The Vietnamese embassy in Japan told Vietnam News Agency on late March 26 that it talked to Linh's father Le Anh Hao, who came to Abiko's police station and identified the girl as his daughter.
Her mother, Nguyen Thi Nguyen, is on a trip to Vietnam with a three-year-old boy at the time of her disappearance.
She plans to return to Japan on March 28 and will be picked up at the airport by police.
A local resident was horrified by what had happened, saying that there has never been such a tragedy there./.
VNA
Link:
http://en.vietnamplus.vn/vn-asks-for-quickly-finding-culprit-in-death-of-vietnamese-girl-in-japan/109338.vnp