Vietnam's top legislator hails ties with Hungary
Vietnam treasures the help that the Hungarian people have extended to the Vietnamese people in their struggle for national liberation in the past and in national construction nowadays, National Assembly (NA) Chairwoman Nguyen Thi Kim Ngan said in Budapest on April 9 (local time).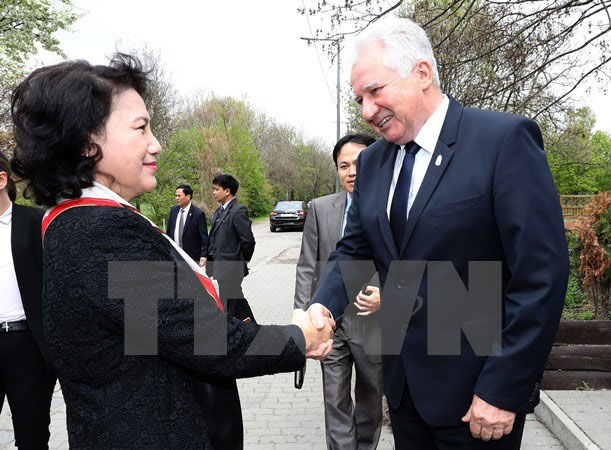 NA Chairwoman Nguyen Thi Kim Ngan (left) and Deputy Speaker of the Hungarian NA Jakab Istvan (Source: VNA)
Speaking to Deputy Speaker of the Hungarian NA Jakab Istvan, Ngan emphasised that Hungary had helped train thousands of Vietnamese officials and engineers, many of whom are in top positions in the State apparatus and take on major roles in Vietnam's economic and social life.
The high-level NA delegation's visit to Hungary is aimed at promoting the relationship between the two parliaments, contributing to the development of the relationship between the two countries, she said.
Saying that the legal workshop between the two NAs scheduled to be held during the visit will be practical and useful, Ngan invited the Hungarian NA Deputy Speaker to Vietnam to co-organise a workshop to share experience in the field of agriculture and irrigation of which Istvan is in charge.
The Hungarian deputy speaker expressed his delight at the fact that Vietnamese officials and engineers who were trained in Hungary have made significant contributions to socio-economic development.
Those people are the bridge linking the two countries and "ambassadors" of Hungary to Vietnam, and vice versa, he said.
He went on to say that Hungary has expanded opportunities for Vietnamese students to study by doubling its scholarships.
On the same day, the Vietnamese top legislator visited Szentendre city where she had a working session with the city's Vice Mayor Dorottya Gyurk.
She showed her hope that the vice mayor will encourage Szentendre enterprises to intensify cooperation with Vietnamese localities, especially in culture and tourism.
While in Hungary, NA Chairwoman Ngan also visited the Vietnamese Embassy in the country./.
VNA
Link:
http://en.vietnamplus.vn/vietnams-top-legislator-hails-ties-with-hungary/109966.vnp