Vietnamese runners bag five golds at Thailand Open
Vietnam pocketed five gold, one silver and five bronze medals at the first day of the Thailand Open Track and Field Championship in Bangkok on June 12.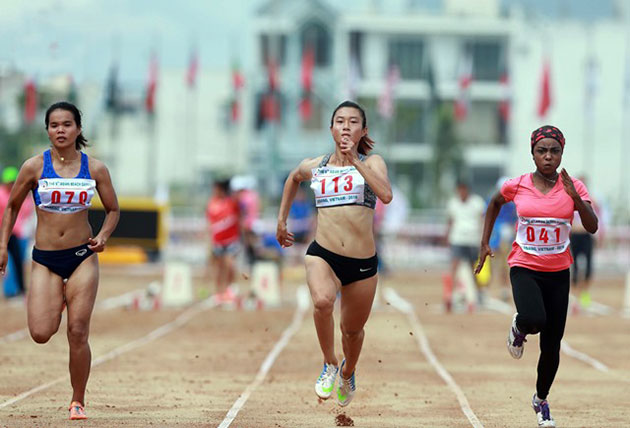 Le Tu Chinh of Vietnam (centre) (Photo: webthethao.vn)
Le Tu Chinh won the first gold medal in the women's 100m event with a time of 11.47sec, setting up her personal best.
Her time was much better than that of Kayla Richardson of the Philippines (11.76sec) who won a gold medal at last Southeast Asian Games two years ago in Singapore.
Chinh will continue with the 200m and 4x100m relay events in the next days.
Chinh won a national title and a gold medal at the Asian Youth Athletics Championships two months ago.
Later, Duong Van Thai championed in the men's 1,500m event with a time of 3min 55.66sec. His teammate Do Quoc Luat was at third with 3:57.73.
Vu Thi Ly triumphed in the women's 1,500m, timing 4:40.93.
Vietnamese athletes dominated the men's and women's 10,000m categories with two golds and two bronzes.
Pham Thi Hue took the fourth gold for Vietnam in the women's class with a time of 35:30.27. Pham Thi Hong Le added a bronze on 37:23.98.
SEA Games defending champion Nguyen Van Lai claimed the title, taking 31:25.05. Le Van Thao was third with 32:03.17.
The only silver went to Nguyen Thi Truc Mai in the women's long jump event. Meanwhile, Nguyen Tuan Anh was third in the men's long jump.
Bui Thi Xuan secured a bronze in the women's javelin event with a throw of 49.53m.
The tournament kicked off on June 12 and will last until June 15. Nearly all ASEAN countries send their athletes here as it is a warm-up for the SEA Games in August in Malaysia./.
VNA
Link:
http://en.vietnamplus.vn/vietnam-runners-bag-five-golds-at-thailand-open/113213.vnp