Vietnamese Olympic medalist wins World Cup shooting silver
Hoang Xuan Vinh pocketed a silver medal at the International Shooting Sport World Cup, which is ongoing in New Delhi, India.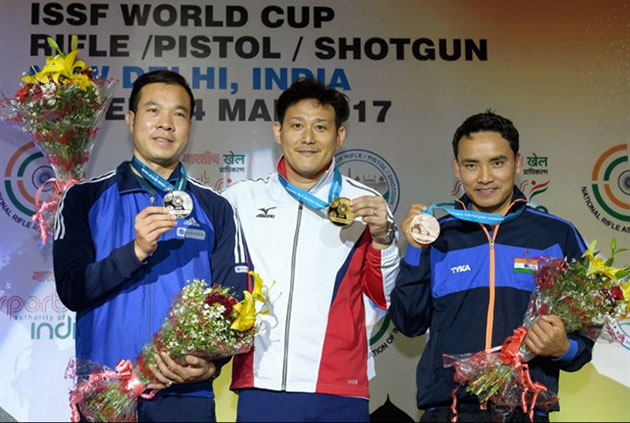 Hoang Xuan Vinh (L) on the podium with two medallists at the International Shooting Sport World Cup in India. (Photo: VNA)
The Olympic champion came second in the men's 10m air pistol event, which also drew the world's strongest marksmen such as Olympic silver medallist Almeida Julio of Brazil and bronze medal winner Yang Wei of China.
In the first 10 shots of the qualification round, Almeida scored the highest with 99 points, Vinh was third with 97 points, while his teammate Tran Quoc Cuong was second with 98 points.
In the next series, Vinh was not able to achieve 100 points, but he remained the most stable shooter with points ranging from 96 to 98.
The Vietnamese grabbed a total of 581 points and topped the qualifier's ranking table.
Chinese Pu Qifeng had the same points but ranked second, followed by Yang with 580.
Vietnamese Cuong was ranked 7th with 577 points and managed to qualify for the final.
Other finalists were from Japan, China and host India.
Almeida who could not sustain his performance failed to make it to the final round.
In the finals, Vinh continued to lead the ranking after the first two five-shot series.
However, Japanese Tomoyuki Maysuda put in an outstanding performance and overcame all other participants in the last seven two-shot series. He came from behind to take the top spot with a total of 240.1 points, setting a new world record in the process.
Vinh finished second with 236.6 points, followed by Indian Rai Jisu with 216.7.
Cường ranked sixth, with 155.8 points.
On March 1, Vinh and Cuong will participate in the 50m pistol event.
Vinh won a silver medal in this event in the Rio Olympics last August.
Their teammates Nguyen Duy Hoang will take part in the men's 50m prone rifle while Le Thi Hoang Ngoc and Pham Thi Ha will compete in the women's 25m pistol category./.
VNA
Link:
http://en.vietnamplus.vn/vietnamese-olympic-medalist-wins-world-cup-shooting-silver/107975.vnp