The Vietnam National Administration of Tourism (VNAT) is to launch a 30-second video clip popularising Vietnam's tourism on foreign TV channels, according to VNAT General Director Nguyen Van Tuan.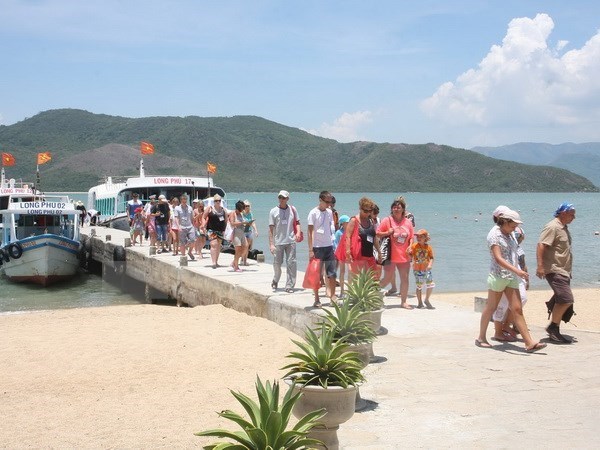 At a conference held by the Ministry of Culture, Sports and Tourism on October 2, Tuan said the clip is a joint effort between the VNAT and the EU-funded Environmentally and Socially Responsible Tourism Capacity Development Programme.
On October 20, the VNAT will sign a contract airing the 30-second clip 300 times on a UK TV channel.
The VNAT also produced two clips in different languages, lasting 30 minutes and 10 minutes, respectively, to be used in various markets.
Another tourism promotion clip lasting seven minutes titled "Welcome to Vietnam" was released recently by the Foreign Ministry.
The clip "Welcome to Vietnam" takes audiences to numerous relic sites and cultural landmarks in Hanoi, Ho Chi Minh City, Da Nang, Quang Ninh, Quang Binh, Ninh Binh, Ha Giang, Thua Thien-Hue and Quang Nam.
As a non-profitable project, the seven-minute clip is recorded in the Vietnamese, English, French, Russian, Spanish, Portuguese, Japanese and Arabian languages.
The Department of Cinematography also produced a video clip lasting more than 20 minutes, to be distributed widely to promote the country.
During the remaining months of this year, the VNAT will focus on the European market and work with the national flag carrier Vietnam Airlines to carry out tourism promotion programmes in various localities, including Singapore, London, Hong Kong (China) and Thailand.
From January-September, more than 5.68 million foreigners visited Vietnam, down 5.9 percent annually but tourism revenues went up 2.8 percent.
Domestic travellers reached 48.8 million, marking a 9 percent rise.
Visitors hailing from the UK, France, Germany, Spain and Italy, who are currently eligible for visa exemptions, arrived in droves during the period. Other neighbouring markets such as Thailand, Hong Kong, Singapore and Malaysia were also major sources of tourists to Vietnam.
Tuan predicted that Vietnam will serve nearly 8 million international travellers this year, equivalent to the 2014 level if the growth momentum stays constant.
VNA/Vietnamplus