Vietnam, Cuba news agencies asked to promote national relations
The Vietnam News Agency (VNA) and Prensa Latina (PL), the official state News Agency of Cuba, should intensify their relationship to make it on par with the time-honoured solidarity, friendship and all-round cooperation between the two countries, Prime Minister Nguyen Xuan Phuc has said.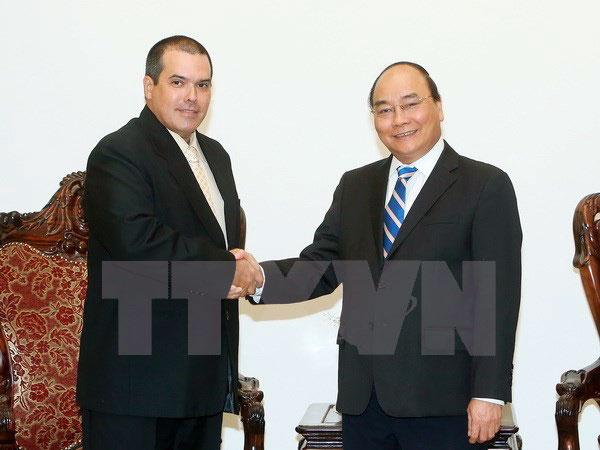 Prime Minister Nguyen Xuan Phuc (R) receives Prensa Latina President Luis Enrique Gonzalez Acosta on October 27 (Photo: VNA)
He made the remarks while meeting with PL President Luis Enrique Gonzalez Acosta at the Government's headquarters in Hanoi on October 27.
He reiterated that the Party and State of Vietnam consistently treasure the cooperation and special amity with Cuba and are glad about its new socio-economic achievements.
Vietnam hopes that Cuba will harvest even greater accomplishments in the future.
The PM noted that VNA and PL have had effective professional cooperation contributing to the struggle for independence in the past and the current national development in their respective nations.
He asked both sides to increase IT application in their professional activities and work harder to deserve the trust of the Vietnamese and Cuban Party, State and peoples.
They should continue existing cooperation activities and discuss ways to meet the growing demand for news reporting, especially news on their countries' situation for Cuban and Vietnamese media in a timely, correct and objective manner.
The Vietnamese Government and people always want the two countries' relations to be expanded in all aspects, including the cooperation between the news agencies, PM Phuc said.
Vietnam vows to assist the Caribbean nation in all spheres and will do its utmost to be a companion of Cuba during the latter's development, he added.
For his part, the PL President noted his news agency, founded by leader Fidel Castro, is tasked with communicating information about the nation and people of Cuba to the international community, and updating news about other countries, including Vietnam, to Cuban people.
He affirmed that Cuba attaches importance to fostering the PL – VNA ties to match with the two countries' special relationships and friendship.
The agencies have made high-ranking visits and delegation exchanges at all levels annually to strengthen connections in order to improve the news reporting effectiveness.
He thanked the Vietnamese Government and VNA's assistance to his agency's activities, stressing that PL will objectively and fully update news about the situation and development of Vietnam.
The Cuban people consider every attainment of Vietnam as their own, Acosta said, voicing his belief that the Southeast Asian nation will continue to reap more achievements and promote its standing in the world.
Also on October 27, the PL delegation had talks with their VNA counterpart, led by VNA General Director Nguyen Duc Loi, who welcomed the third working visit to Vietnam by Acosta and noted that their news agencies have long been colleagues and friends.
The two sides expressed pleasure at their cooperation and information exchange over the past years which have helped them precisely and objectively update news about their respective countries' situation for media outlets.
They agreed that VNA will boost providing multimedia news, particularly video clips, for PL in the time ahead.
The agencies will also continue publishing the Vietnam Pictorial in Spanish in Cuba.
A printing press will be presented to PL as a gift from VNA to help it publish the Vietnam Pictorial and other publications.
They also pledged to give the best possible assistance to their representative offices and correspondents in each other's countries.
During their visit to Vietnam from October 24-29, the PL delegation also had meetings with Vice Secretary of the Ho Chi Minh City Party Committee and VNA's southern office and Itaxa company./.
VNA
Link:
http://en.vietnamplus.vn/vietnam-cuba-news-agencies-asked-to-promote-national-relations/101345.vnp