Vietnam joined over 90 other countries around the world to celebrate the first International Day of Yoga with ceremonies nationwide on June 21. 
June 21 was declared the International Day of Yoga by the United Nations General Assembly on December 11, 2014.
The declaration came after the proposal was made by Indian Prime Minister Narendra Modi during his address to the UN General Assembly three months earlier on September 27.
As many as 177 of the 193 UN member states joined as co-sponsors of the UN General Assembly Resolution, creating a new record for the highest number of co-sponsoring countries for a UN resolution. Vietnam was one of the first countries to co-sponsor.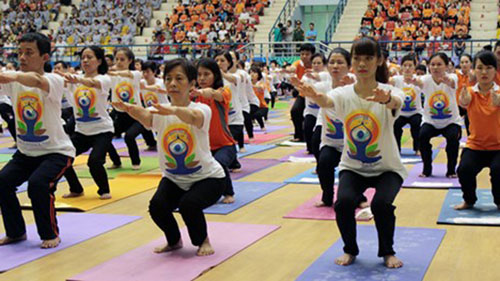 At the ceremony at Hanoi's Quan Ngua Sports Complex, UN Resident Coordinator in Vietnam Pratibha Mehta said the International Day of Yoga illustrates the importance of doing yoga in the daily life. She also read a congratulatory message from UN Secretary-General Ban Ki-moon to those around the globe today.
Indian Ambassador to Vietnam Preeti Saran said millions of people in more than 90 countries would be practicing yoga on June 21 as a demonstration of the sport's global attraction.
India believed the event would bring people together for comprehensive health, happiness and community strength, he added.
President of the Vietnam Fatherland Front Nguyen Thien Nhan said the adoption of the International Day of Yoga received great support from UN member states, noting that yoga, dating back thousands of years in India, is now practiced all over the world. It improves health and unites people.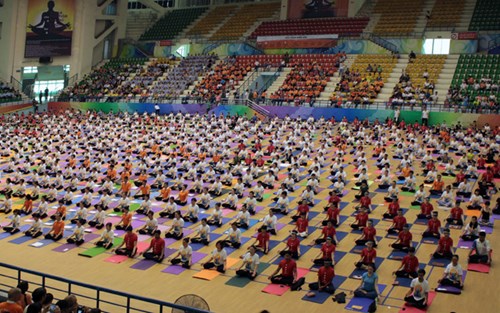 With regard to Vietnam-India relations, he expressed his belief that bilateral ties would develop vigorously for the sake of the two peoples, global peace and development.The Indian Embassy said they plan to send yoga instructors to Vietnam to open classes and offer intensive trainings to local yoga teachers.At the ceremony, practitioners had a 30-minute yoga demonstration.
Besides the event in Hanoi, the first International Day of Yoga was also commemorated in Hai Phong city and Phu Tho province in the north, Thanh Hoa province and Da Nang city in the central region, and Ho Chi Minh City and Can Tho city in the south.