Vietnam among best Culinary Hotspots for Solo Travelers
Vietnam has been ranked 10th among 2016 Culinary Hotspots for Solo Travelers by TourBar.com, a travel website and app.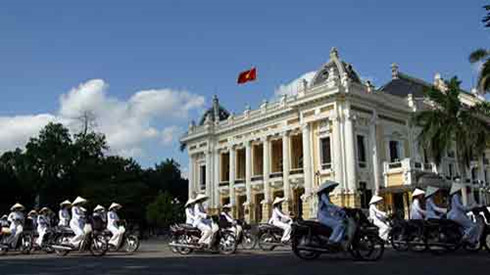 It received 4.7% of votes, while in Asia Thailand received 18.2% and India 6%, ranking them second and ninth, respectively.
Spain headed the list, with 19.6% of votes, the UK was third with 14.8%, then the US, Italy, Portugal, and Australia, with 13.5%, 8.8%, 7.4% and 6.7%, respectively.
In May the UK newspaper The Telegraph wrote that Hanoi was one of the world's greatest cities for food after the US President Barack Obama and the famed chef Anthony Bourdain enjoyed a US$6 "bun cha"; one of Vietnam's most famous dishes, with grilled pork, rice noodles, spicy fish sauce, and vegetables.
The Telegraph also advised tourists to taste a wide range of other delicious local food, such as "pho tiu" noodles with a sweet and sour soup, pork and fish sauce; "banh mi", a baguette filled with pate, cucumber, herbs, crispy onion and chili; and "com tam", or broken rice with grilled pork, pork skin, egg and fish sauce.
The Telegraph's experts also suggest tourists to finish off their meal with a traditional egg coffee, or "ca phe trung" – a blend of coffee and egg whites with sugar and enjoyed hot or cold.
In the first five months of this year international tourists to Vietnam reached over 4 million, a 20% increase year-on-year, according to the General Statistics Office (GSO).
Tourists arriving by air totaled 3.29 million, up 22.2% up, while 66,011 arrived by water, down 25.9%, and 647,929 arrived overland, a 16.6% increase.
Tourists from the EU, the Americas, and Asia all increased in number. Those from the Americas totaled 328,851, up 11.8% compared to the same period last year, with US tourists totaling 245,557, up 14%.
There was also a strong increase in the number of EU tourists, which were up 13.9% year-on-year to 697,200. Russian tourists totaled 180,219, a 23.3% increase, French tourists 112,294, up 13%, UK tourists 112,100, up 24.4% up, and German tourists 80,200, up 17.6%.
Tourists from the Netherlands, Italy and Sweden reached 23,900, 21,897, and 21,408; increases of 21.8%, 30.1% and 26.5%, respectively.
The number of Asian tourist grew the most, up 24% to over 2.8 million and primarily from China, the Republic of Korea, Japan and Taiwan.
Tourists from China totaled over 1.01 million, up 44.4%, the Republic of Korea 631,263 people, up 31.4%, and Japan 301,700, up 11.7% up. Those from Taiwan (China), Malaysia, Thailand and Singapore totaled 202,000, 163,500, 119,700, and 99,700, rising 15.2%, 18.4%, 37.7% and 15%, respectively.
The GSO also said that revenue from restaurant and catering services in the first five months was some VND158 trillion (US$7.07 billion), a 6.2% year-on-year increase. Revenue in Hanoi increased 6.8%, Quang Ninh province 10.5%, and Ho Chi Minh City 7.8%.
Tourism revenue in the first five months was VND11.7 trillion (US$524.16 million), a 6.7% increase year-on-year. Revenue in Danang, Hue, Ho Chi Minh City, Thanh Hoa, and Hanoi increased 9.3%, 7.7%, 7%, 6.9% and 2.7%, respectively.
VN Economic Times