VFF President congratulates Khmer people on Chol Chnam Thmay
President of the Vietnam Fatherland Front (VFF) Nguyen Thien Nhan has congratulated Khmer people on their traditional New Year festival Chol Chnam Thmay during his working visit to southern province of Soc Trang and Tra Vinh.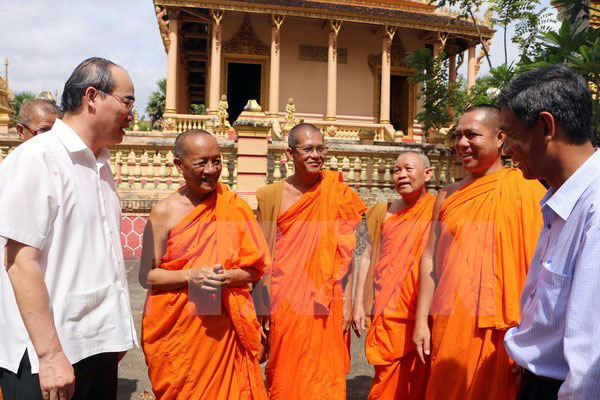 VFF President Nguyen Thien Nhan has congratulated Khmer people on Chol Chnam Thmay festival during his visit to Soc Trang and Tra Vinh provinces. (Photo: VNA)
Meeting with leaders of the Party's Committee and People's Committee of Soc Trang on April 8, VFF President Nhan asked for greater support for local people, especially the Khmer ethnic community.
The provincial authority should work to help improve living standards of the Khmer people and restructure crop and livestock farming towards more effective and sustainable production in response to climate change, Nhan said.
Local cow breeding and intensive shrimp farming should be developed with large scale farms that use advanced technology, he noted, adding focus on developing cooperatives in agriculture, aquaculture and breeding.
Chairman of the provincial People's Committee Tran Van Chuyen said the province has exerted more active effort against drought and saltwater intrusion this year. It has been working to improve local irrigation systems, restructure crop production schedules and guide farmers to shift to climate change-resistant plants and livestock, he added.
It now grows a herd of more than 44,000 cows, including over 10,000 dairy cattle; and plans to have 100,000 beef cows by 2020 and double the number by 2025, Chuyen said.
VFF President Nhan visited the Association for Solidarity of Patriotic Buddhist Bonzes of Soc Trang to wish them a warm and joyful Chol Chnam Thmay. He also expressed his delight at the association's achievements in the past and the improvement of local life.
Nhan later offered incense at the martyr cemetery of Soc Trang and visit the 80-year-old People's Teacher Lam Es who has spent more than five decades to compile and publish dozens of Khmer language textbooks for Khmer children.
On April 9, the VFF President also visited the Association for Solidarity of Patriotic Buddhist Bonzes of Tra Vinh to convey his wishes for a happy Chol Chnam Thmay.
In the meeting, he spoke highly of contributions by Khmer monks and people in nation building and hoped that they will continue keeping up the good work.
Chol Chnam Thmay is one of the most important festivals of the year for the Khmer people. It usually lasts three days and is celebrated mostly in pagodas.
One of the most important practices in Chol Chnam Thmay is the Buddha bathing ceremony. Khmer people also bathe to pray for forgiveness for mistakes made in the previous year.
Various traditional activities such as folk games, dances and singing are also held during the festival./.
VNA
Link:
http://en.vietnamplus.vn/vff-president-congratulates-khmer-people-on-chol-chnam-thmay/109951.vnp