US President calls for end to China aggression in East Sea
US President Barack Obama has stated that China's illegal construction projects in the East Sea are counter-productive and called for an end to aggressive action in the region.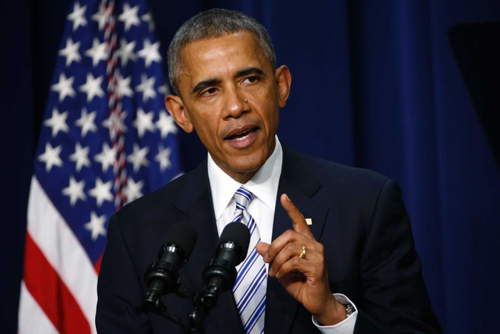 Speaking at the Young Southeast Asian Leaders Initiative Fellows Programme at the White House on June 1, Obama said as a major player in the region, China should respect international law and refrain from using unnecessary force.
He warned that Asia and the Pacific region will limit its prosperity if claims are made based on how big the country is rather than a code of conduct in the settlement of disputes.
The same day, the Japan's Kyodo news cited Commander of the US 7th Fleet Vice Admiral Robert Thomas as saying the US military will work to prevent unforeseen clashes and continue its patrols in the East Sea, where Beijing is reclaiming constructing artificial islands.
In an interview aboard the Blue Ridge command ship, Thomas said the task of the 7th Fleet, based in Yokosuka, south of Tokyo, is to ensure "freedom of access" on the high seas and in the airspace above them.
"If the Chinese start making claims that are counter to that, that is not going to be recognised by us," he said, indicating that the navy has been seeking communication with its Chinese counterpart to prevent unforeseen clashes.
Also according to Reuters news agency on June 1, Secretary of the Australian Defence Ministry Dennis Richardson said China's unprecedented artificial island construction raise questions of China's intent in the region.
In his speech to the Shangri-La security conference in Singapore on May 31, Australian Defence Minister Kevin Andrews took sides with the US and other countries against China's construction in the East Sea.
He stressed the need to intensify regional cooperation in settling territorial disputes and warned China about its illegal activities in the area.