In the morning of June 22nd, the 105th death anniversary of patriotic poet Phan Van Tri was solemnly held at his relic area in Nhon Loc 1 hamlet- Phong Dien town – Phong Dien district.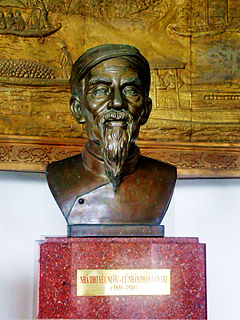 Mr. Lu Van Dien, former member of the party central Committee, former secretary of Cantho municipal Party Committee, Mr. Pham Van Hieu – Chairman of Cantho city people's Council, Mr. Truong Quang Hoai Nam – Vice chairman of Cantho city people's Committee and leaders of the steering Committee for Southwestern Region, Chau Thanh A district- Hau Giang province, Giong Trom district – Ben Tre province, local people came for attendance.
The patriotic poet Phan Van Tri used to use images of animals close to human to criticize invaders and country-traitors. He and other patriotic intellectuals at that time like Nguyen Đinh Chieu and Bui Huu Nghia used their pens to raise movements against enemies.
The grave of the patriotic poet Phan Van Tri was built on the area about 2,400m2 and recognized the national-level historical-cultural relics in 1991. On the celebration of his death anniversary, many cadres and people from everywhere come here to offer incense to show their great respect to his talent and morality.
At the death anniversary, many local units took part in the contest of making and displaying folk cakes.
Also in this occasion, the party committee and people's committee of Giong Trom district, Ben Tre province and the study promotion fund of Phong Dien district offered 18 scholarships to poor excellent students.
                                                          Translated by Thanh Dung